If you live in the San Jose area and are looking for an amazing speaker upgrade for your Jeep Wrangler, drop by California Car Sounds and Tint in Campbell and ask for a demonstration of the Alpine SPV-65X-WRA. This speaker upgrade solution is designed to drop right into the dash or an overhead sound bar in your 2007 through 2018 JK-chassis code Jeep.
Alpine SPV-65X-WRA Flexible Weather-Resistant Design
When it comes to having fun in your Jeep, it's not uncommon for things to get a little wet and muddy. The weather-resistant design of the SPV-65X-WRA speakers includes an IP55 rating to ensure that your music will continue to sound great, even if you get caught in the rain.
Premium Audio Performance
The speaker system includes a pair of 6.5-inch woofers with custom steel brackets. The brackets include tabs that work with the same fasteners as the original speakers. The tweeters in the set feature a Teteron soft-dome design for excellent high-frequency detail and accuracy.
This speaker set can be installed as a separate system or as a coaxial, thanks to the included tweeter mounting bridge. A mounting plate is also included for the tweeters. Alpine even includes speaker connectors that plug directly into your Jeep's wiring harness. These adapters mean that we don't have to cut any wiring or make modifications to install this great-sounding upgrade.
Great Speakers Are the Heart of a Jeep Audio System Upgrade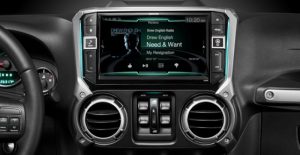 The SPV-65X-WRA speaker set is just the beginning of the options we carry for your Jeep Wrangler. We have the new X209-WRA-OR Alpine Restyle weather-resistant source unit with built-in navigation that includes off-road-specific features as well as Apple CarPlay and Android Auto. The Restyle design delivers a massive 9-inch touchscreen and easy-to-use buttons that look perfect in your dash. We also have Jeep-specific backup cameras that will work with large aftermarket wheel and tire packages. The new KTA-30FW Tough Power Pack is a compact, weather-resistant, four-channel amp that can deliver an impressive 75 watts of power to make your speakers spring to life!
Visit the Jeep Experts at California Car Sounds Today!
Even with a design that drops right into the factory speaker locations in your Jeep, installing these speakers in the lower dash location can be tricky. Fear not: Our team of expertly trained technicians is available to integrate any of our audio upgrade and convenience solutions into your vehicle to ensure optimized performance, excellent longevity and exceptional value.
If you have a Jeep Wrangler and want to improve the performance of the lackluster factory stereo system, drop by California Car Sounds in Campbell and ask about products like the Alpine SPV-65X-WRA or any of our Jeep-specific solutions. You can reach us by phone or by e-mail using our online contact page for more information or to schedule a personal consultation.