If you live in the San Jose area and are looking for a way to upgrade your car or truck with Apple CarPlay and Android Auto, drop by California Car Sounds and Tint. We offer new source units from Alpine, Sony and Pioneer, as well as vehicle-specific solutions for many BMW, Audi and Mercedes applications. If being able to communicate safely with coworkers, family and friends while you drive is important, our smartphone interface solutions are a great investment.
What Are Apple CarPlay and Android Auto?
CarPlay and Android Auto are software applications that run on the radio in your car. These solutions serve as an easy-to-use interface with your smartphone so you can send text messages, make phone calls or choose the entertainment you want, all by using simple plain-English voice commands. For example, if you want to send a text message, say, "Send Dave a text message."
In terms of entertainment options, both systems will let you request music stored on your smartphone, or choose from a variety of streaming applications like Pandora, Spotify, Tidal, iHeartRadio, Amazon Music and Google Play Music. You can also listen to podcasts or audiobooks using a variety of popular applications.
For those who travel a lot, these voice recognition systems will provide detailed turn-by-turn navigation directions using Waze or Google maps from either platform and Apple Maps if you have an iPhone. Just as when you are making phone calls, you can search for a destination from your contacts, provide an address or let the system search the internet for an address based on a business name. If you are up in San Francisco and want to come to our store, say "Navigate to California Car Sounds and Tint in Campbell, California." The system will search for our address, then plot an efficient route to get here while taking into account real-time traffic information.
Aftermarket Source Unit Options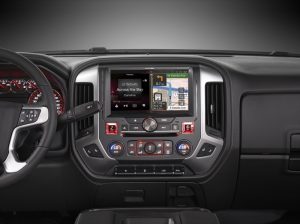 We carry a variety of double-DIN multimedia receivers with CarPlay and Android smartphone integration built-in. Our team can help you choose a solution that has the additional features you want, including CD/DVD playback, SiriusXM, HD Radio and dual USB ports for audio and video playback. We also offer vehicle integration interfaces like the ADS Maestro that will let your radio display vehicle info like speed, engine RPM, water temperature and fuel level. Likewise, many factory-installed parking sensors and backup camera systems will work with the new radio using the Maestro interface.
We offer the full line of Alpine Restyle solutions for Jeeps, Toyotas and Chevrolet, GMC and Ram trucks. These kits include oversized 8- and 9-inch displays along with a custom dash kit with easy-to-access buttons and controls. If you have a vehicle that offers a standard single-DIN radio location, we have several floating-display radios with large screens from Alpine, Pioneer and Sony that make it easier than ever to see what's playing.
If you have an Audi, Mercedes or BMW, we have a variety of Apple CarPlay and Android Auto upgrade modules that will integrate with your factory radio to provide smartphone connectivity. Drop by our store and ask us what's available for your application.
Visit Silicon Valley's Car Audio Experts Today!
If you are interested in upgrading your vehicle with CarPlay and Android Auto or want new speakers, a subwoofer or amplifier to improve the sound of your car audio system, drop by California Car Sounds and Tint in Campbell. Be sure to bring your smartphone so we can demonstrate just how easy it is to stay connected while you drive. For more information, call the store or send us an email using our contact form.