California Car Sounds in Campbell has been in the security systems business for more than 26 years. Car alarms have sure changed a lot since we began installing them. In years past, vehicle electrical systems were basic and easy to understand. Not anymore. Nowadays, vehicles use integrated networks known as CAN-BUS to let all the electronics in the vehicle communicate with each other. It takes a highly skilled technician to properly integrate electronics into your vehicle. Fortunately, our installers are considered the finest in the area and are well-versed in-vehicle networking, receiving ongoing training to keep them up to speed on anything new that comes down the line.
Build Your Security System Exactly as Needed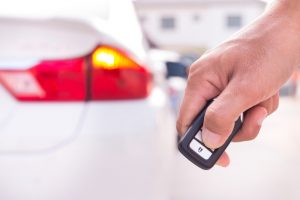 One of the greatest benefits of choosing us is our ability to custom-build you a security system based on your unique needs. Do you want an alarm system with keyless entry? No problem. Would you like to add a remote starter at the same time? We can do that. Maybe you would like to control the system through your smartphone and have a remote as a backup. No problem. The beauty of our shop is that our systems are almost limitless in their capabilities.
One-Way and Two-Way Systems are Available
We offer two different technologies for our handheld remotes. A one-way system talks in one direction: from the remote to the vehicle. When you step up to a two-way design, the vehicle communicates back to the remote, confirming a command and alerting you of any tampering with your vehicle. More and more of our clients upgrade to the two-way technology every year. Imagine being out to dinner at a popular restaurant. You put your keys on the table or in your pocket, and a little while later, you hear your remote control alert you of a problem. In that crowded restaurant, you would never have heard your alarm go off, so the remote may have just saved the day.
Smartphone Control is the Ultimate in Convenience and Notification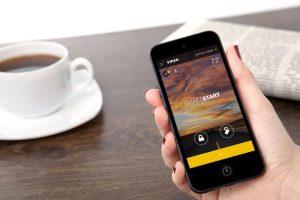 Have you always wanted a security system, but didn't want to carry an extra fob around? Maybe you have lots of money and time wrapped up in your car, truck or SUV and you want to know if the alarm goes off, no matter how far away you are. If so, our smartphone systems are perfect for you. With a smartphone-controlled system, not only do you get complete control over your security system using the app you download to your phone, but you also have the capability of adding real-time GPS tracking to your vehicle. It is the ultimate in security and peace of mind.
Optional Features Complete the Package
Once you have decided to upgrade to a car alarm, California Car Sounds has an assortment of sensors and protection devices to make your system even more secure. From backup batteries to shock sensors, and even digital tilt sensors that detect if someone is trying to steal your custom wheels, we have you covered.
Factory Alarm Upgrade
Most of the factory-installed security systems are designed to prevent a car from being hot-wired and stolen. But what about the contents in the vehicle? We have solutions specifically designed to add a security system to your vehicle and control it from your existing factory key fob.
Stop in for a Free Security Consultation
The next step in getting a security system to protect your vehicle is by stopping in at California Car Sounds with your vehicle. One of our highly trained staff will look it over with you and discuss how you use it over the course of an average week. We will explore different options with you, and custom-design solution for your unique needs.
Let us show you why more people choose us for their car alarm needs year after year. You can also click here to contact us about any of our products and services.