California Car Sounds in Campbell is an automotive window tinting specialist. We use Global Window Films, one of the finest brands available anywhere. You can choose from a variety of high-performance metallized or standard non-reflective automotive films that will give you the custom look you desire, no matter what vehicle you drive. Your tint will be installed by industry professionals and backed by a strong warranty to give you the peace of mind that comes from knowing you've made the right choice.
Nationwide Warranty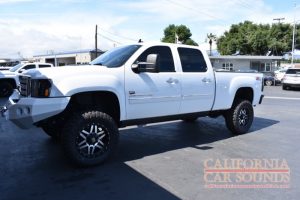 All of our automotive window tint installations are backed by a nationwide warranty that allows peace-of-mind and ensures your long-term satisfaction.
Enhanced Appearance
Our window films add a touch of class to each vehicle. Whether you drive a basic sedan for commuting to and from work or a top-of-the-line exotic, you will see a dramatic improvement in your vehicle's looks.
Improved Comfort by Reducing Heat
The window films at California Car Sounds offer the ability to reject heat from the sun during the day, making your vehicle more comfortable to drive. Have you ever gone out to your car, truck or SUV on a hot day only to open the door and feel the instant rush of hot air escaping? This is known as the greenhouse effect, and our window tint can significantly reduce it. Now, you will go out to a vehicle that is much cooler. Everything from your hair, makeup and clothes will look better, and you will arrive at your destination feeling refreshed, not worn out.
Protect Your Interior and Your Skin
By rejecting 99% of the sun's damaging UV rays, our films protect your vehicle's interior from cracking and fading. More importantly, they help protect your skin from premature aging and skin cancer. This safety factor alone is a great reason to invest in window tinting from us.
Our Window Tint is Color-stable
Our company is legendary for only selling products that are a better value for our clients. For this reason, all our window film is guaranteed not to fade or turn purple over time.
Protection from Accidents or Vandalism
Although the films from Global can't avoid glass breakage, they can hold the pieces of broken glass in place, preventing it from spreading in case of accidents or vandalism. Doing this helps prevent physical harm or injury to you and your passengers.
Increased Privacy is a Major Benefit
The film we install is available in Visible Light Transmission (VLT) from 5% to 50%. It can make the interior of your vehicle even more of a private place.
Stop in and See Us
The next step in getting your windows tinted from California Car Sounds is to stop in and see us for yourself. One of our highly trained staff will look over your vehicle, get to know you better and understand how you use it over the course of an average week. We then take all of that information and help find the best window film solution for you.
Let us show you why more and more people every year choose California Car Sounds for their window tinting needs. You can also click here for more information about any of our products and services.