California Car Sounds in Campbell is a specialist in radar detectors. Whether you are looking for a high-quality portable unit or a state-of- the-art custom- installed laser and radar detector, we have you covered. Since 1990, our company has prided itself on offering our clients the best-performing, most-reliable products on the market. We back that up with installation quality that rivals or even exceeds those of a vehicle manufacturer.
Portable Detectors Come in a Wide Range of Quality
A portable radar detector is good for someone who drives several vehicles or may not have the budget for a custom-installed unit. If you decide to buy a portable unit, it is important to know that there are many differences between a cheap unit and a high-quality model. The inexpensive ones are more of a nuisance than anything else because they false a lot. These false readings will come from alarm systems in buildings and devices the government uses to monitor traffic speed. We see many of these units in the gloveboxes of vehicles because the drivers got tired of them going off for no reason. The range of the cheaper units is also poor, so even when they detect police radar, it may be too late to help you avoid a ticket.
The solution is to keep your money in the bank until you can afford a high-quality portable detector such as those sold by California Car Sounds.
Our units use sophisticated filtering so they can tell the difference between a false alarm and real radar. The vast majority of the time, when the alarm goes off, you do need to check your speed. The good units also have much better sensitivity, so you will have more time to check your speed in the event you run into a radar trap.
Custom-installed Detectors are the Best Defense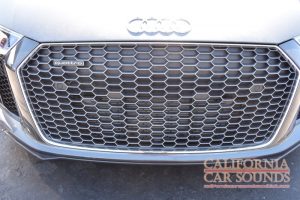 The best defense you can get against laser and radar-based speed detection devices is a custom-installed unit. They take protection to the next level. Here is how it works. In the front of your vehicle, we strategically place laser shifters that can pick up on when laser (or LIDAR) has been shot at the vehicle. They instantly fire back powerful beams of light at the laser gun, not letting it get a reading on you. Now, you have precious seconds to slow down and avoid a ticket. Since this type of speed detection is light-based and not radio-wave-based, your detector only goes off if your particular vehicle has been targeted. If you owned a portable detector, all it does is confirm you are about to get a ticket.
For the ultimate in defense, we can also add rear laser shifters to your car, truck or SUV. While the vast majority of the time, laser is shot at the front of a vehicle, in the instance you are targeted from the rear, you are covered.
Our Specialty is Luxury Vehicles
Do you own an Audi, BMW, Mercedes, Porsche or Tesla? If so, then you already know how advanced your vehicle is compared to a normal car. Our team is made up of the finest technicians in the area and they are well versed in working on upscale vehicle models. We understand the proper way to integrate with these advanced electrical systems, as well as the right way to disassemble and reassemble them. When you get a custom-installed laser and radar detector from us, the finished product will look factory-installed.
Schedule a Radar Consultation for Yourself
The best way to know you are getting the best solution for your needs is to schedule a consultation with us. One of our team will get together with you at our store so we can look over your vehicle and discuss how you use it over the course of an average week. Once we have gathered all our information, our staff will suggest what we feel will work best for you. Let us show you why, since 1990, more and more people every year choose California Car Sounds for their laser and radar detector needs.
You can also contact us for more information about any of our products and services.