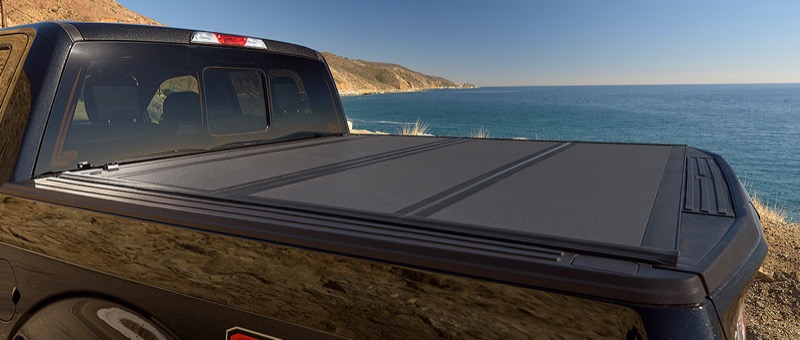 If you live in Silicon Valley and are shopping for a tonneau or bed cover for your pickup truck, drop by California Car Sounds and Tint in Campbell and talk with one of our product specialists. Our team has years of experience helping clients choose the perfect protection solution for their pickup trucks. With access to prestigious and high-quality brands like Bak Industries, Extang, Roll-N-Lock and Leer, we can provide a solution that will meet your needs and expectations.
Bed Cover Styles and Options
Truck bed covers add security to your vehicle by concealing cargo, tools and belongings stored in the back of your truck. Most bed covers are designed to keep dust, dirt and debris out of the bed so that the bed becomes a useable extension of the interior for items like suitcases.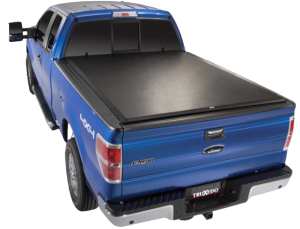 Tonneau covers come in many different styles. The two biggest categories are hard and soft covers. Soft covers are typically less expensive than their hard brethren and are constructed from vinyl or a heavy-duty fabric like canvas. Most soft covers use either a plastic track or hook-and-loop fasteners to secure the cover to a track that runs the perimeter of the vehicle. Soft covers are easy and quick to remove if you need full access to your truck bed, making them a very popular option.
Hard bed covers are among the most popular because they add an extra level of security against content theft. Hard covers are typically constructed from connected aluminum slats or foam-core aluminum panels. These durable materials can't be penetrated using a pocket knife, and most include a locking mechanism with a key or that works with the tailgate lock on your truck.
Hard folding covers use three or four panels that fold on top of each other. In most instances, the cover can be raised against the rear window to provide nearly complete access to the truck bed. The second style of cover, known as a retracting design, uses narrow aluminum slats that roll into a canister at the back of the bed. These covers let you access only as much of the bed as is required, and many are available in motorized versions that include wireless radio-frequency remote controls like a remote car starter.
Choosing the Right Bed Cover for Your Truck
When you visit California Car Sounds and Tint, one of our product experts will ask you a series of questions to help us understand how you use your pickup truck and what you need to protect. If you are a construction contractor, your needs may be very different than a homeowner's. We'll use our expertise to help you navigate the hundreds of options that are available.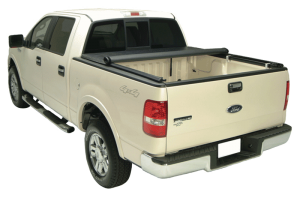 Once you have chosen a cover style, we'll double-check the dimensions of your vehicle to make sure we order one that fits your bed perfectly. Some covers aren't available for eight-foot beds, so we'll take all of that into account during the decision-making process. Once your cover has arrived, we can schedule an appointment with our technicians to complete the installation, saving you time and the hassle of disposing of the giant cardboard boxes that the covers are shipped in. Finally, we'll show you how to use and care for the cover to ensure that it lasts for the life of your vehicle.
If you're looking for truck accessories like a tonneau or bed cover, drop by California Car Sounds and Tint in Campbell. Our team is here to help you find a perfect solution. You are welcome to call our store at (408) 378-0409 or send our team an e-mail using our online contact form.