California Car Sounds in Campbell has been working on motorcycles since 1990. That is a long time. In that time, we have turned out some amazing motorcycle audio systems on Harley-Davidson and other brands of bikes. We think our finished products sound better because we understand that working on a motorcycle is not the same as working on a car or truck.
You are dealing with a lot of different elements when trying to make the stereo system on a bike sound good. Things like loud exhaust systems and wind noise are two major differences. From basic audio upgrades to full-blown custom builds, we can handle it all for you.
Motorcycle Audio Start with Proper System Design
First and foremost, we are audio specialists. We don't sell chrome parts, and we surely don't build engines. We are experts in acoustics. When you want an engine that makes great power and will be reliable, you go to an engine shop. When you want a great-sounding motorcycle audio system, go to an audio shop – like ours.
When you ride over to our facility, you will be greeted by an audio expert who will look over your bike with you and take all the time needed to understand your needs. At that point, you will see a complete system design that includes product, installation parts and labor for a system that will keep you grinning for years to come.
Our Products are Better
Since we have the luxury of having worked with the best brands in the business for more than 27 years, we know how to hand-select the products that work best in the motorcycle environment. What we don't do is look through a catalog and order products that seem like they should work. Rather, we inventory and sell products that our team has seen great success with in real world use.
A Superior Installation Designed to Last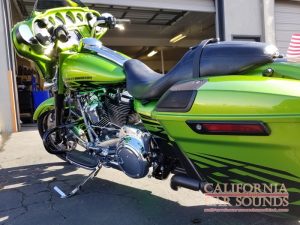 Once the correct products have been chosen, you want a shop that can give you three things: quality, reliability and care.
From the moment we take possession of your bike, we treat it with the utmost care. Our technicians have taken apart so many fairings that we have lost count at this point. Our installation methods are reference-standard, designed to give you years of reliable service. We also design the install to allow for easy servicing of the bike in the future. Our team will even take pictures of the fairing before reassembling it, so you have a better understanding of what was done to your bike.
Our staff knows you have made a sizable investment in your motorcycle, so we offer replacement lids, since there is no reason to cut a hole in your existing bags. Most shops will just cut away, stripping the bike of value.
Lighting is a Popular Upgrade
Are you interested in upgrading the lighting on your bike? Maybe a replacement headlight, road lights or even additional lighting? Would you like custom lighting to accent the engine or light up the road beneath you? We have your solution.
The Next Step is to Ride on Over and See Us
The next step in transforming your motorcycle audio system is to ride over to California Car Sounds for yourself. One of our highly trained staff will get to know you better so we can design and build the system you have always wanted. While you are here, ask us about the lighting upgrades we have available for your specific bike. Let us show you why more and more people in the Bay Area turn to us for their audio and lighting needs every year.
You can also contact us HERE for more information about any of our products and services.