California Car Sounds in Campbell has been specializing in vehicle safety and convenience since 1990. To make sure our clients get the right safety and convenience products for their unique needs, we offer consultations at our store. When you stop in with the vehicle you want to upgrade, one of our highly trained staff will look it over with you and listen as you explain how it gets used over the course of an average week.
Our vehicle safety and convenience products get broken down into these popular categories:
Backup Sensors & Front Parking Sensors
At California Car Sounds, we offer both rear and front parking sensors. We also offer sensors specifically for metal bumpers, so you can have peace of mind when installing these on your heavy-duty truck. If you desire an original factory look, the sensors can be painted to match your vehicle.
These easy-to-understand warning systems emit audible beeps when the vehicle gets close to an object or obstruction. Beeping frequency and volume indicate the object is closer. If you combine reverse sensors with a backup camera, you have the ultimate in awareness of any obstacles behind you while backing up.
Camera System Explained

Our team knows cameras. Whether you want to add a camera to your existing factory screen or add an aftermarket screen in the mirror or dash, we have the solution for you. Some of our display offerings include the following:
-Integrating a Camera to Your Factory Color Screen
If your vehicle came equipped with a color screen in the dash, the chances are good that we can integrate a camera solution to display right there, giving you a factory-looking and -performing solution.
-Replacement Rearview Mirror
Another popular option for a monitor is a replacement rearview mirror that has an integrated LCD monitor embedded inside it.
-Upgraded Stereo System
If you have an older vehicle or a lower-trim model that lacks some modern technology, replacing the in-dash stereo system may be perfect for you.
-Backup Cameras and Front-view Models
Our cameras come in many shapes and sizes, depending on the application needed. Whether you drive a Corvette or a box truck, we have you covered. Our backup cameras allow you to see what is in the blind spot behind you. Front cameras are great for people who need to navigate tight parking spots or garages and work well on vehicles with low front ends that could be damaged by parking blocks.
-Blind Spot Cameras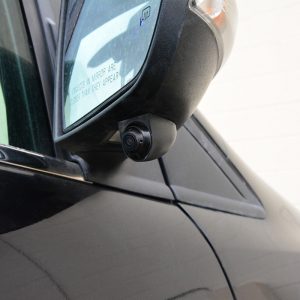 Another popular camera system is our blind spot solution. Our team strategically places a camera underneath each side view mirror that is aimed at the blind spot. When you are driving and activate your turn signal, the respective camera springs to life and displays what is in your blind spot. If you activate your left blinker, the left camera image is displayed. If you turn on your right blinker, you see the right camera image.
-360-Degree Camera Systems
Among the most technically advanced systems offered at California Car Sounds are our 360-degree camera systems. We place a total of four cameras strategically around your vehicle, one on each side. Sophisticated software "stitches" the camera images together, giving you a birds-eye view of your vehicle and what is around it. Now, you can easily navigate tight spots, knowing full well the clearance you have around your vehicle.
These systems also give you a backup camera and blind spot camera, so you get all the best wrapped up into one product.
-Forward Collision Warning Systems
A product category that continues to grow in popularity is our forward collision warning system. It gives you several important features designed to make you a safer driver. You get an alert if you are following too close to a vehicle in front of you or if you need to stop suddenly to avoid an accident. If you start drifting out of your lane, you get a notification. When a pedestrian or cyclist comes into your driving path, you get an alert to keep an eye on them.
-Blind Spot Sensors
A different type of blind spot system we offer uses sensors to let you know if someone is in your blind spot while you're driving. We hide two radar sensors inside your rear bumper and place a pair of indicators inside the vehicle, one on each side, in easy view of the driver. We install a hidden speaker for audible alerts.
When you are driving along the road and someone comes into your left blind spot, the left indicator illuminates. If you decide to turn on your left blinker, an audible alert sounds as a second warning. The same scenario happens on the right side of the vehicle.
Come See Us
The next step in getting the right safety or convenience solution is to stop by California Car Sounds for yourself. You can also click contact us for more information about any of our products and services.