If you are in the San Jose area, drop by California Car Sounds and Tint to check out the amazing Alpine HCE-TCAM1-WRA Jeep camera solution. This amazing backup camera is designed to fit on the spare tire of your Jeep for clear visibility of everything behind your vehicle when backing up and maneuvering. Let's look at a few of the key features of this camera that make it the perfect collision avoidance system for your 2007 and newer Wrangler.
Wide-Angle Rear Vision Camera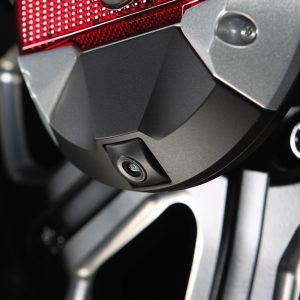 The Alpine HCE-TCAM1-WRA Jeep camera features a wide 132-degree horizontal and 105-degree vertical field of vision. The camera will function in extreme low-light situations as dark as 1.0 lux. The ¼-inch CMOS image sensor adjusts automatically to light conditions so that you can see safely all the time.
Integrated Third Brake Light
The HCE-TCAM1-WRA features an integrated third brake light that uses LEDs to ensure other drivers will know when you are slowing down. Alpine has also included an LED reverse light into the camera assembly to improve visibility at night. All the light wiring connects to your Jeep using an included T-harness. We don't need to modify any wiring in the vehicle, and your factory warranty remains 100 percent intact.
Flexible Installation Options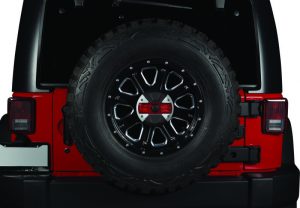 The camera system mounts directly to the factory spare tire carrier bracket and includes 4.25-, 3- and 1.75-inch offset posts to work with factory-installed and aftermarket wheels. The mounting bracket is thin enough to not interfere with securing the spare tire to the carrier. After the spare tire is in place, you can use the factory-provided wheel lock nut to hold the camera module to the mounting bracket.
Alpine HCE-TCAM1-WRA Jeep Camera
The HCE-TCAM1-WRA will work with aftermarket source units, including the awesome X209-WRA-OR, a 9-inch, weather-resistant, off-road-ready Restyle radio replacement system. An optional harness called the ALP-HRN-CAMCH is available to allow us to connect this camera to a factory-installed radio in 2007 through 2017 Wranglers.
Expert Installation by California Car Sounds and Tint
Our installation team is available six days a week to complete the installation of the HCE-TCAM1-WRA into your Jeep Wrangler. The team is equipped with the tools and training that will ensure the installation is flawless and all the wiring is routed and secured as it runs through the vehicle.
Jeep Wrangler Collision Avoidance Solutions
If you are looking for a way to see past an oversized rear tire on the back of your Jeep, or are worried about running over objects left in your driveway, drop by California Car Sounds and Tint in Campbell and speak to a member of our team. You can also contact us by e-mail using our online contact page.