California Car Sounds in Campbell is the Bay Area's premier marine audio specialist. Our team has been installing boat systems for more than 26 years and pride ourselves on improving your boating experience. We have one of the largest selection of marine amplifiers, speakers, tower speakers and head units, all in stock. From a simple stereo upgrade to a full ground-up system, our specialists can handle it all.
Basic Marine Audio Upgrades
If you own a boat that just needs a little help in the audio department, California Car Sounds is the place to go. From updating your existing stereo system to one that can do Bluetooth for music streaming to adding USB ports to play your portable media or even adding satellite radio, we have you covered. Maybe you have some speakers that need to be replaced, or you want to add a second set for more balanced sound? We do that as well.
Complete System Overhaul
If your needs are more advanced and you want your boat to be a party on the water, our marine audio specialists have you covered. From overhead tower speakers that let you enjoy your music in the water to custom enclosures, subwoofers and multiple amplifiers, we do it all. Our team understands what it takes to give you a great-sounding stereo system that will be reliable for years to come.
Dedicated Marine Audio Products
While other shops may use traditional car audio products in your boat, that will never happen around here. Electronics on a watercraft have to be built to a much higher standard if they are going to last. We spend hundreds of hours on researching and testing the finest marine products so we can give our clients the best-sounding, longest-lasting systems available.
Free System Design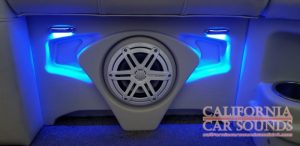 If you want to get the best-value products for your money, you want a company that takes a system design approach to your marine stereo system. A boat is very different from an automobile or a house, and a problem on the water can ruin your day in no time flat. Our team will get together with you and your boat so we can look it over, and then listen as you tell us how you intend to use it. We will offer our time-tested suggestions for maximizing your return on investment. Then we will offer you a proposal that best meets your unique needs. And all of this is at no cost to you.
Our Installation Quality is Legendary
Once the products have been selected, you need an installation team that understands how to work on a boat properly. We hold our boat systems to a higher standard, using only marine-grade installation products designed to handle the harsh life on the water. From our upholstery materials to our hardware and wiring, we design everything to last for years and years.
A Facility Designed around Boats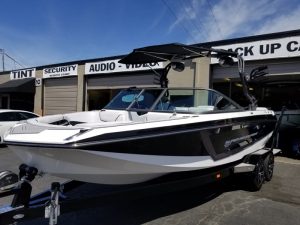 Our facility allows us to store most boats with towers inside, unlike most of our competition. What this means to you is we aren't leaving your boat outside at night or having to rush to get them done because of bad weather. You can have peace of mind that your significant investment is being cared for properly while in our possession.
Experience Us for Yourself
The best way to experience the difference in California Car Sounds is to visit us in person. One of our highly trained staff will get to know you better, show you around our facility and – most importantly – listen as you explain your goals for the upgrades. Let us show you why year after year, more people in the Bay Area choose us for their marine audio upgrades.
You can also contact us HERE for more information about any of our products and services.