California Car Sounds and Tint in Campbell is proud to announce that we are now an authorized Alpine Restyle dealer. When it comes to upgrading the source unit in trucks and Jeeps, nothing equals the features and seamless integration that Restyle head units offer. Let's look at what sets Alpine's solutions apart from everything else on the market.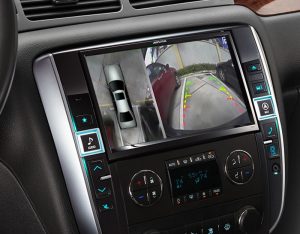 Custom Integration Solution
Alpine Restyle solutions are, in their most basic forms, new head units for your truck or Jeep. Alpine has developed a series of 9- and 10-inch source units, most of which include Bluetooth, USB support for smartphones and compressed media playback.
What differentiates Alpine Restyle solutions, even more than their gigantic screens, is that the systems include a new dash kit. In most applications, the dash kits include the hard buttons for the audio system. Volume, tracking, source selection, nav and more are right at your fingertips. The dash kits are finished to match the cosmetics of the vehicle interior almost perfectly. Once a Restyle system is in your GMC, Chevrolet, Ram, Ford, Toyota or Jeep, it genuinely looks like it belongs.
Sound Quality and Control
Restyle source units include a plethora of audio-specific features including 10-band equalization, adjustable high- and low-pass filters with variable slopes, and signal delay. Each of the six preamp outputs can be delayed to put you front and center in your musical experience. When the system is configured properly, your music will sound natural and detailed with a wide soundstage that will instantly remind you of your favorite concert. Alpine includes controls for the TuneIt app with most models. TuneIt allows you to configure the audio settings using your iPhone or an Android phone.
Maestro Data Integration
Alpine has partnered with ADS to include a Maestro RR module with each system. This module allows the new Alpine source unit to display vehicle information like tire pressure, backup sensors, climate controls and a set of gauges that mimic the information on the dash. The exact features vary by application.
Jeep Wrangler Owners, Rejoice!
In the past few years, Alpine has put a big push on developing upgrades for 2011 to 2017 Jeep Wranglers. The new i207-WRA and X209-WRA feature an IP53-rated design that resists water and dust intrusion into the controls and display. If you get caught in the rain with your roof off or get everything dusty on your favorite trail, the radio will keep working.
Both source units include Android Auto and Apple CarPlay for seamless communication, entertainment and information while behind the wheel. The i207-WRA features a 7-inch screen with Bluetooth hands-free and audio streaming, digital media support multiple camera inputs, HD radio, Pandora, SiriusXM, and an HDMI input. Moving up to the X209-WRA offers a larger 9-inch screen, built-in navigation and a CD/DVD mechanism.
Both systems are compatible with the new KAC-001 Accessory Controller. This module allows the source unit to control functions like auxiliary lighting, a winch, locking differentials, air suspension and more. In total, there are eight outputs that we can assign to almost any function you want.
More Jeep Fun
The HCE-TCAM1-WRA is a backup camera solution with an integrated third brake light that mounts to the center of the spare tire of your Jeep. The PSS-21WRA sound system for 2015-2017 Wrangler Unlimited applications include four new speakers, a 320-watt amplifier and a power under-seat subwoofer.
Experience Alpine Restyle Today
If you own a Jeep Wrangler or a Ford, GMC, Chevrolet or Toyota pickup truck, then drop into California Car Sounds and Tint to experience the Alpine Restyle solution for your vehicle. We'd be happy to provide you with a detailed quote to upgrade the technology in your truck. Give us a call or send us an e-mail for more information about any of our products or services.