California Car Sounds has been a specialist in navigation systems for as long as these products have been around. Over the years, we have seen many changes to the category, but in the end, nothing is as safe or convenient as having an installed navigation system in your dash.
When you use a smartphone, you have to rely on the smaller screen plus the small internal speaker that can be difficult to hear. We break our systems down into four distinct categories that are easier to use, see and hear.
1. OEM Factory-original Navigation Systems
Did you know we can often install the same factory navigation system that comes with a higher trim-line model of the same vehicle? It's true. As an example, if you bought that new Ford Mustang and it didn't come with the large touchscreen unit in the dash, we can retrofit it for you with Ford parts. In that vehicle, you also can add on satellite radio and HD radio.
2. Add Navigation to Your Factory Stereo
Another popular option at California Car Sounds is adding aftermarket navigation to your existing factory stereo system. Now, you can keep the stereo system you love and add the turn-by-turn GPS you have always wanted.
3. Replacement Navigation systems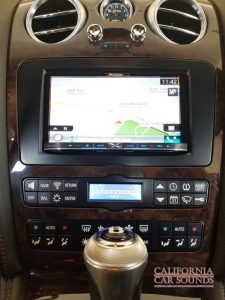 For more than 20 years now, our staff has been replacing existing stereos in the dashes of our clients' vehicles with replacement navigation systems. Maybe you drive an older car, truck or SUV that you love, or simply a lower-level model that didn't have the technology you wanted. There is no need to worry when you come see us, since we have modern technology upgrades for almost all vehicles.
Popular options include Bluetooth for hands-free calling and music streaming, HD radio, SiriusXM, backup cameras, front view cameras, blind spot cameras, USB ports, and CarPlay or Android Auto.
4. CarPlay and Android Auto Models
If you are the kind of person who loves your phone and you're happy with the navigation system offered by Apple or Google, we have a solution for you that provides many of the benefits of an installed navigation system. Many of our replacement in-dash touchscreen stereo systems offer Apple's CarPlay and Google's Android Auto smartphone integration software. They allow you to have their integrated mapping show up on the large screen in your dash. Your voice prompts will be easy to hear because they are heard through your stereo system, not the wimpy speakers on your phone. You can also pick up the same technology features mentioned above in our replacement navigation systems.
Proper Integration is Key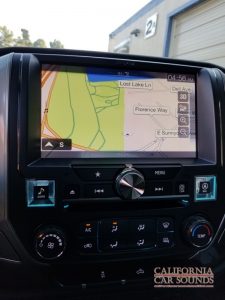 Once you have decided on the best solution for your needs, you want a shop that can integrate it properly into your vehicle. If you have features like steering wheel-mounted audio controls, a factory-installed backup camera or the upgraded premium sound system, you surely don't want to lose any of those features.
Our team is made up of the finest technicians in the Bay Area, and we know how to keep everything working perfectly for you. When you add in our reference-standard installation methods, you have a recipe for success.
Get a Navigation Consultation
The next step in getting the best navigation system for your needs is to stop by California Car Sounds with your vehicle. One of our highly trained staff will look it over with you and listen as you explain how you use it over the course of an average week. At that point, we will suggest the best solution for your unique needs. Let us show you why people all around San Francisco have trusted their vehicles to us for more than 25 years.
Contact us HERE to see if we have a solution for your vehicle. You can also stop by for more information about any of our navigation products.