California Car Sounds and Tint in Campbell is the blind spot solutions expert in the San Jose area. Most clients don't know we can add blind spot cameras and sensors to their vehicle. Using premium brands like Echomaster, our expert installation technicians can upgrade your vehicle with features typically found on luxury cars and trucks. Let's look at some of the options to make your vehicle safer.
Blind Spot Camera Systems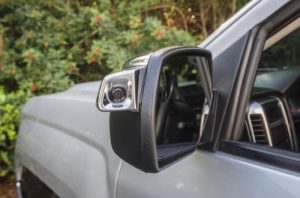 Do you wish you had someone that could hang his or her head out the window when you activate the turn signal? Our blind-spot camera systems include side-mounted, rear-facing cameras that display a clear image of everything beside your vehicle. The compact cameras mount to the underside of your rearview mirrors. A monitor in your vehicle will display an image of everything beside your vehicle's blind spot
Echomaster offers several vehicle-specific side blind spot camera solutions. Their applications include Ford, Ram, Honda, Audi and Toyota vehicles. These application-specific solutions include a pair of cameras and a module to display the camera image on the factory screen in the dash. Several solutions, including light and heavy-duty GM trucks, General Motors SUVs and the Mercedes-Benz Sprinter come with replacement rear view mirror covers with integrated camera mounts. These new mirror covers provide optimum camera placement with an OEM look.
Camera Image Display Options
In many applications, we can display the camera image on your factory infotainment system display – even if cameras were not a factory option. If you don't have a color display in the dash, we can upgrade the vehicle with a new rearview mirror with an integrated screen. Another great option is to upgrade the factory radio with an aftermarket multimedia receiver to gain features like Bluetooth, Apple CarPlay and Android Auto. Of course, we can add a backup camera to any display solution for added safety while maneuvering or parking.
Sensor-Based Blind Spot Solutions
We offer several sensor-based blind spot solutions that will notify you if someone is beside your vehicle. A compact visual alert indicator illuminates when someone is in your blind spot. If you activate your turn signal while someone is beside you, the system will provide an audible warning. With as much as 50 feet of range, our lane change monitoring systems are a great way to prevent accidents.
Expert Installation available at California Car Sounds and Tint
Whether you choose a camera or sensor based blind spot monitoring system, our team of expert technicians is available to integrate the solution into your vehicle with the utmost care and attention to detail. We employ industry-reference wiring and equipment-mounting practices to ensure your system will operate reliably. Our attention to detail includes careful planning of visible components to ensure the vehicle retains a stock appearance.
Upgrade Your Vehicle Safety Today
If you are interested in upgrading your vehicle with a blind spot camera or sensor system, drop by California Car Sounds and Tint and speak with a member of our team. We'd be happy to look at your vehicle and help develop a custom solution that meets all of your requirements. If you have any additional questions, give us a call at 408-378-0409 or send us an e-mail using our contact form.