California Car Sounds and Tint in Campbell offers a variety of collision avoidance technologies like our new Toyota blind spot detection systems. Adding radar-based blind spot detection to pickup trucks has been difficult until now. Advances in radar technology have made adding safety systems to vehicles with steel and aluminum fenders and bumpers easy and reliable. Read on to find out how these systems function and learn about the warnings they can provide.
What is a Blind Spot?
By definition, the blind spot is the area beside and behind the vehicle that is not visible in your rear- or side-view mirrors or in your peripheral vision. Thousands of accidents and close calls happen every day when drivers change lanes without checking over their shoulders to see if a vehicle is beside or just behind them.
License Plate-Mount Detection System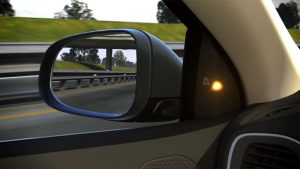 The new Advent blind spot and cross-traffic detection system is integrated into a compact license plate frame. When mounted on the rear of the vehicle, the system will alert the driver when a vehicle enters the blind spot at a distance of up to 50 feet. A small LED indicator lights up to let the driver know which side of the vehicle to check. If the driver activates the turn signal when there is a vehicle in the system's detection zone, the system provides an audible alert and the indicator will flash.
Intelligent Operation Ensures Reliable Alerts
The blind spot monitoring system includes a built-in GPS receiver that deactivates the system when the vehicle is going slower than 20 mph to prevent distractions when you're in a parking lot. The system can also track up to five separate objects so you'll always know if someone is driving beside or just behind your vehicle in an adjacent lane.
Cross-Traffic Alert System
When you're backing up, the system switches to cross-traffic alert mode. Rather than focusing on the area beside and behind the vehicle, the detection pattern extends out perpendicularly from the vehicle to let you know if someone or something is approaching from the side. The system is sensitive enough to detect vehicles, motorcycles, bicycles and even pedestrians.
Expert Installation Services
The installation team here at California Car Sounds and Tint has the tools, training and experience required to integrate this collision avoidance system into almost any vehicle. They will take the time to mount the warning indicators symmetrically in a position that provides clear visibility, day or night. The detection and control hardware will be mounted securely and all the wiring will be concealed and protected to ensure reliable operation. When you pick up your vehicle, a member of our staff will review the operation of the system to make sure you're comfortable with how it functions.
Toyota Blind Spot Detection Solutions
If you drive a Tundra or Tacoma, our Toyota blind spot detection system is a great way to help prevent close calls and accidents. We invite you to visit California Car Sounds and Tint in Campbell to find out how we can make driving safer. If you can't drop by, give us a call or send us an e-mail using our contact page to schedule an obligation-free consultation. We look forward to improving your driving experience.