Rockford Fosgate has recently introduced an extensive offering of motorcycle audio upgrade kits for 2014 and newer Harley-Davidson Road Glide and Street Glide touring bikes. The kits include high-power amplifiers, premium weather-resistant speakers, custom grilles and all the hardware the technicians here at California Car Sounds and Tint in Campbell need to complete the installation process. Let's look at why these upgrades offer amazing value and performance.
Rockford Stage 2 Speaker and Amplifier Kits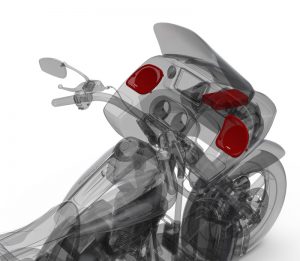 Rockford has three audio upgrade kits available in its Stage 2 packages. The HD14U-STAGE2 kit works with 2014 and newer Street Glide Ultra, Electra Glide Ultra, Ultra Limited and Ultra Limited Low bikes with the batwing fairing, along with 2015 and newer Road Glide Ultra with the shark nose fairing. The kit includes two sets of the weather-resistant TMS65 6.5-inch coaxial speakers, one set for the fairing and another for the Tour Pak rear speaker pods. The kit also includes a four-channel TM400X4ad amplifier to provide up to 100 watts of power to each of the speakers.
The HD14RGSG-STAGE2 is designed for 2014 and up Street Glide and Street Glide Special, along with 2015 and newer Road Glide and Road Glide Special bikes. It includes one set of the TMS65 speakers and the same four-channel amp as the kit for the Ultra bikes.
The HD14CVO-STAGE2 works with 2014 and up CVO Street Glide and 2015 and newer CVO Road Glide motorcycles. The kit includes the CVO-specific wiring connectors and includes a set of TMS57 5×7-inch Element Ready powersports speakers for the rear fairing.
Stage 3 Audio Kits Pack a Big Punch!
For more output and system efficiency, Rockford's Stage 3 kits take the amazing features and performance of the Stage 2 offerings and add more speakers for better sound.
The HD14U-STAGE3 kit adds the Rockford TMS69BL14 bag lid speaker upgrade kit for a dramatic increase in bass performance. Rockford's bag lid speaker kit with the existing covers on the saddlebags includes a cutting template that our technicians can use to add a set of TMS69 6×9-inch speakers to the back of the bike. This design eliminates the time it takes to paint new lid covers and prevents hassles with matching paint codes.
The HD14RGSG-STAGE3 follows in the same path for 2014+ Street Glide and Street Glide Special bikes along with 2015+ Road Glide and Road Glide Special bikes by adding the TMS69BL14 saddlebag speaker kit. The four-channel amp included with the Stage 2 kits will have no problem running these additional speakers.
For owners of CVO Road Glide and CVO Street Glide bikes, the HD14CVO-STAGE3 kit adds a second set of 6.5-inch TMS65 speakers for use in the lower fairing speaker pods.
Expert Installation Services
Whether you choose one of the Stage 2 or Stage 3 audio upgrades for your Harley-Davidson, the mobile electronic installation technicians here at California Car Sounds and Tint will provide their expertise in ensuring every component is installed and configured properly. We take the time required to protect the paint and chrome on your bike to ensure it won't be damaged. We secure all of the wire harnesses to prevent buzzes and rattles while driving. Finally, the amplifier is configured to provide amazing sound quality without unwanted noise before your bike is reassembled with the utmost of care and attention to detail.
Add Excitement to Your Next Ride with California Car Sounds and Tint
If you live in the San Jose area and are interested in upgrading your Harley-Davidson, drop by California Car Sounds and Tint in Campbell and speak to one of our product consultants. They will help explain the solutions that are available for your application and provide a detailed quote to upgrade your touring bike. For more information about the Rockford Fosgate Harley-Davidson audio system upgrade kits, or any of the products and services we offer, give us a call or send our team an e-mail using our online contact page.