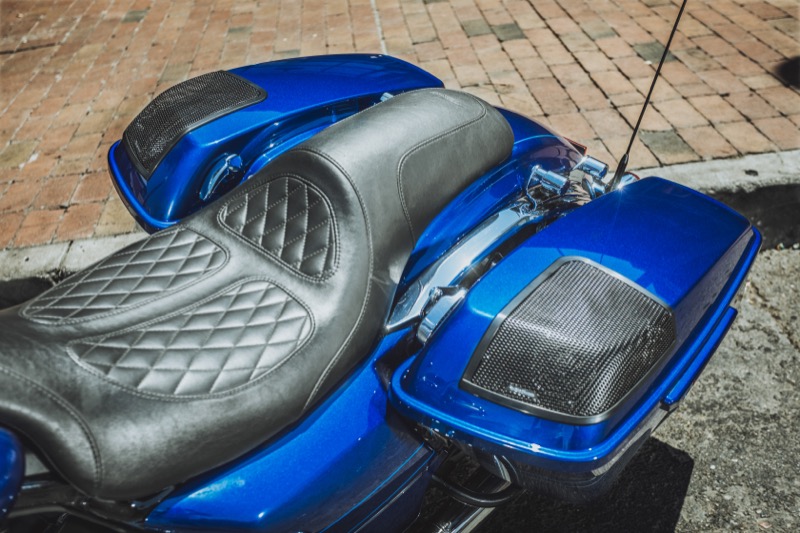 If you own a Harley-Davidson Road Glide, Street Glide or an older Electra Glide and want to enhance the sound system with rear speakers, drop by California Car Sounds and Tint and ask about the Rockford Fosgate bag lid upgrade kit. The TMS69BL14 and TMS69BL89813 rear speaker upgrade kits work with the factory lids on your saddlebags and deliver amazing sound quality with minimal time investment.
Rockford Fosgate TMS69BL14
Designed for 2014 and newer Road Glide and Street Glide bikes, the TMS69BL14 bag lid speaker kit includes a pair of Rockford's impressive TMS69 Element-Ready Power Series 6×9-inch coaxial speakers, mounting bracket and custom grilles. The kit also includes a cutting template that lets our technicians make short work of integrating the new speakers into your existing saddlebag covers. This design eliminates the cost, complexity and time commitment involved in trying to get new lids color-matched to the rest of the bag or bike. In most cases, we can have you in and out in less than a day with great sound.
Rockford Fosgate TMS69BL9813
Just as with the TMS69BL14, the TMS69BL9813 is a similar speaker upgrade kit that is designed for 1998 through 2013 Road Glide and Electra Glide bikes, as well as 2006 through 2013 Street Glide applications. The same two-way, weather-resistant TMS69 speakers provide amazing sound, and both kits include all the hardware and cabling required to work with the HD9813RG-TKIT or HD9813SG-TKIT audio systems.
Amazing Sound Quality on Your Harley-Davidson
Aside from the outstanding design of these kits, the TMS69 speakers are designed specifically to deliver amazing sound quality and loads of output when connected to a high-power amplifier. The 1-inch dome tweeter features a waveguide and phase plug that helps direct high-frequency energy forward toward the driver. The woofer uses a UV-stable polypropylene cone for long-term reliability. A rubber surround at the inner and outer edges of the woofer cone ensure complete protection against water or dust. Finally, a large 35mm voice coil on the woofer provides excellent power handling and great efficiency.
San Jose's Motorcycle Audio Experts
If you live in the San Jose area, drop by California Car Sounds and Tint to find out why we are considered the go-to destination for motorcycle audio upgrades. Our team will help you choose the right products for your motorcycle, and our world-class installation technicians will ensure that each component is integrated and optimized for optimum performance and long-term reliability. For more information about the Rockford Fosgate bag lid speaker kits or any of our motorcycle audio solutions, call the store or send us an e-mail using our online contact page.