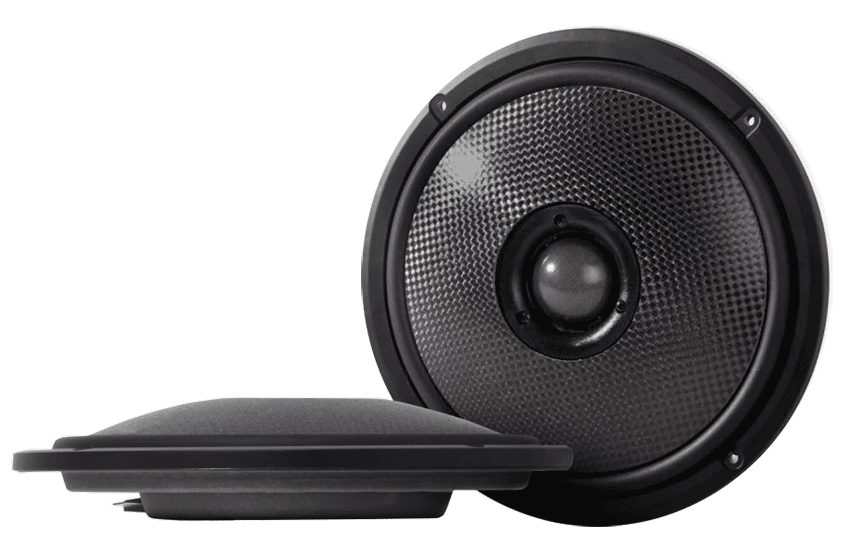 If you live in the San Jose area and are looking for a premium speaker that can be installed almost anywhere, drop by California Car Sounds and Tint to audition the Morel Virtus Nano Integra 602 Carbon Integra. While the name might be lengthy, these speakers are the epitome of thin. These 6.5-inch class coaxial speakers require a mere 0.67 inch of mounting depth. If space is at a premium, these are the solution.
Features of the Nano Integra 602 Carbon
These impressive speakers are based on an incredibly thin stamped steel frame. The woofer cone features a design that Morel calls the Grand-Dome. This convex shape provides room for the voice coil assembly and magnet underneath the cone while adding rigidity to the design to prevent distortion. The voice coil has a diameter of 2.1 inches, a large size that contributes to the driver's 100-watt continuous power rating. The speaker is powered by a neodymium slug located inside the voice coil. Morel calls this its External Voice Coil (EVC) design. The cone of the woofer is made from a hybrid of carbon fiber top layer and a foam core that provides damping and added strength.
Morel Integra Design
Morel Integra refers to a coaxial speaker design. The Virtus Nano Integra 602 Carbon Integra features a version of Morel's legendary 1.1-inch Accuflex soft dome tweeter. Having the tweeter in the center of the speaker provides exceptionally predictable performance at the crossover point from all installation locations. The passive MXR200.3n crossover filters the midrange to the tweeter at a very low 2.2 kHz to help prevent directivity from affecting frequency response when listened to off-axis. Output adjustments for the tweeter include -2, 0 and 2 dB options to help us tune the audio system to your listening preferences.
Amazing Installation Options
Where the Nano Integra 602 Carbon Integra really shines is in custom installation in classic automobiles. We can integrate these speakers into a set of custom kick or door panels, or create a new rear parcel shelf without the need to cut any metal in the vehicle. The result is great sound without affecting the value of the vehicle.
Experience the Big Sound of These Thin Speakers
If you are tired of boring music in your classic or custom car, drop by California Car Sounds and Tint in Campbell and ask for a demonstration of the amazing Morel Virtus Nano Integra 602 Carbon. When combined with a subwoofer in your vehicle, your music will sound amazingly lifelike and incredibly detailed. For more information about our speaker upgrades, give us a call or send an e-mail using our online contact form.