If you are in the San Jose area and are looking for a high-power, high-performance marine-grade amplifier for your boat, drop by California Car Sounds and Tint and check out the JL Audio M800/8v2. This incredibly flexible eight-channel amplifier is the perfect upgrade for any system and will let us feed your speakers with crystal clear power. It has the power to support both subwoofers and wakeboard tower speakers simultaneously. Let's look at the M800/8v2 in more detail.
JL Audio M800/8v2 Eight Channel System Amplifier
Each channel of the impressive M800/8v2 is rated to produce 75 watts of power into a four-ohm load and 100 watts of power into a 2-ohm load. Each pair of channels can be bridged to provide 200 watts into a four-ohm load. The bridged configuration is perfect for subwoofers or wakeboard tower speakers that need a little extra oomph!
Flexible System Configuration
Each pair of channels on the M800/8v2 includes low- or high-pass crossovers that allow us to fine-tune the signal going to your boat's speakers. This allows us to maximize their performance. The optional HD-RLC remote level control can be assigned to channels five through eight for use with wakeboard speakers or just channels seven and eight for use with a subwoofer.
Heavy-duty 4-AWG power connections ensure the amp will serve up your music with detail and accuracy, even at high volume levels.
Reliability and Performance from the Experts in Marine Audio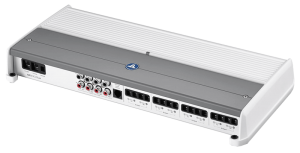 The JL Audio M800/8v2 is a dedicated marine version of the awesome XD800/8v2 amp. The upgrades for marine performance include a corrosion-resistant powder-coat finish, gaskets on the cover for the controls and stainless-steel hardware.
The NexD Switching Technology used in the M-series amplifiers ensures efficient power delivery even when the battery voltage varies. The power supply operates at more than 400kHz to ensure the audio signal is clean and pure, even beyond the limits of human hearing. NexD also improves the efficiency of the amplifier to maximize your playtime when the engine on your boat isn't running.
Check Out the M-Series Amplifiers at California Car Sounds and Tint
The M-Series of marine amplifiers from JL Audio includes a total of nine models. If you need a high-power subwoofer amplifier, or a two-, three-, four-, five- or six-channel amp to accompany the M800/8v2, JL Audio has you covered. There is no system design or application that we can't make sound better with the M-Series marine amplifiers.
Expert Marine Audio Installation Services
Whether we are building you a marine entertainment system from scratch or upgrading an existing system, the M800/8v2 is the perfect starting point to make your time on the water even more enjoyable this summer. If you are in the Campbell, CA area, drop by California Car Sounds and Tint and talk to us about our marine audio upgrades. You can send us an e-mail anytime using our contact page for more information.