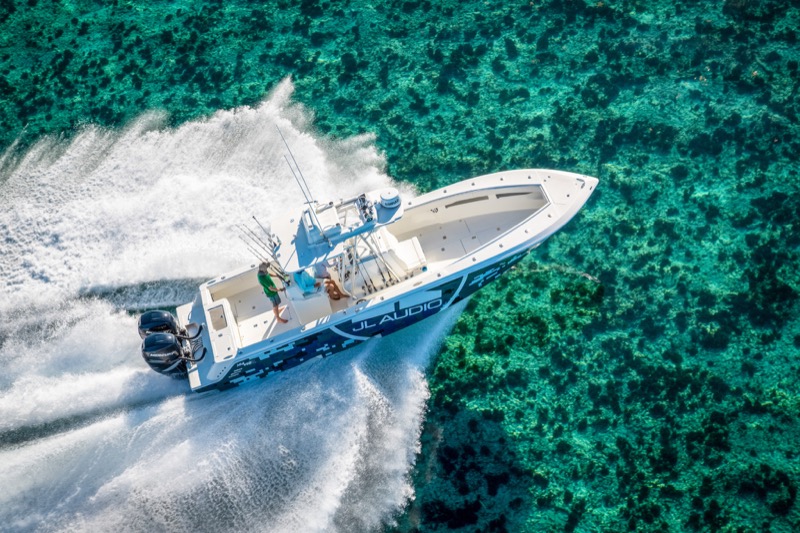 The staff at California Car Sound and Tint in Campbell are experts at designing and installing better-sounding marine audio systems. Marine entertainment systems have a rough life – they get left outdoors most of the time and are often played at high volume. Both of these factors are a challenge for each component in the system. In this article, we'll discuss the four most popular steps to upgrading a marine audio system.
Marine Speaker Upgrades
Whether you're at home, in your vehicle or on your boat, no component in your audio system is more important than the speakers. You could have the highest quality, most expensive electronics in the world, but your system will sound mediocre if you don't have great speakers.
So, what do better speakers do for your sound system? Upgraded speakers reproduce voices and instruments with increased clarity. Better speakers often provide smoother frequency response, so your music sounds more realistic. High-quality speakers often provide extended frequency response, so you hear more bass and extended highs. Finally, when driven with adequate power, new speakers will play louder with less distortion.
Amplifier Upgrades
Even if you aren't cranking the volume to 11, having a high-quality amplifier in your marine entertainment system plays a big role in how the system sounds. Just like better speakers, an amplifier can contribute to the detail and realism of your music. Drums will have more impact and vocals will have more clarity.
Of course, if you like to listen to your music at high volumes, then an amplifier is an absolute requirement. Delivering a clean, undistorted signal to your speakers, especially at high volumes, can help them last longer and will make them sound better.
Adding More Speakers
We see many boats that only come with one or two pairs of speakers. That's fine when you're sitting at the dock or at anchor, but as soon as you're underway, they're rarely enough. Many of our clients add speakers dedicated to specific tasks. Wakeboard tower speakers or speakers on the transom of the boat for skiers or swimmers are popular additions.
Another significant upgrade is to add a subwoofer to a marine system. Having a sub not only improves low-frequency performance but relieves your small speakers from the trying to produce bass. Smaller speakers sound better and can play louder when you have a sub onboard.
Source Unit and Control Options
If you have an older boat, an upgraded source unit with Bluetooth audio streaming or iPhone connectivity can open up a world of entertainment options. We can add a SiriusXM receiver so you can enjoy your favorite music from anywhere on the coast.
We can also add control options to your sound system. A wired remote on the swim platform or at the helm can make controlling your sound system much easier.
Experience Better-Sounding Marine Audio Today
If you own a boat and want a better-sounding marine audio system, drop into California Car Sounds and Tint and speak with a member of our team. We would be happy to work with you to design an upgrade that improves the performance of your system. Feel free to send us an E-MAIL using our contact form for more information about any of our products or services. We look forward to hearing from you.