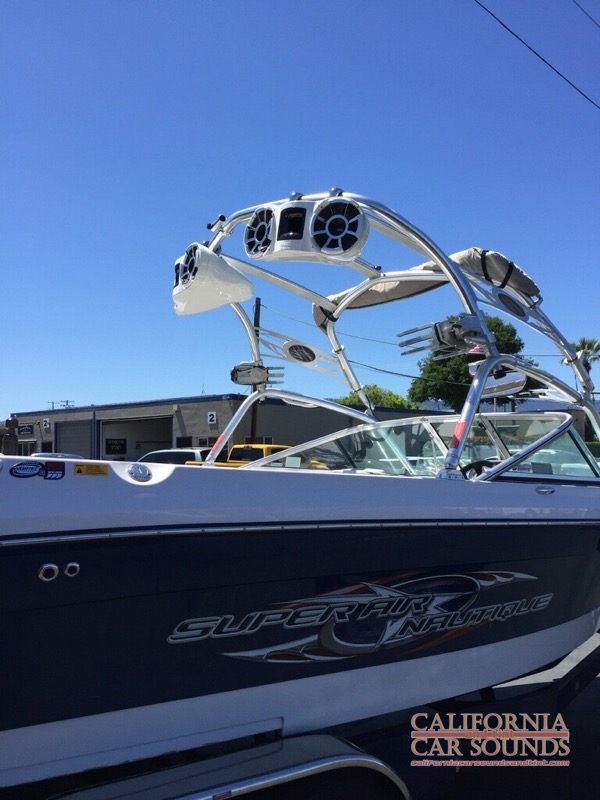 A client from Los Altos, California, brought his 2006 Nautique Super Air to California Car Sounds to upgrade the audio system on the advice of a local boat dealer. Without Bluetooth or a USB connection, the radio was in dire need of a replacement, and the original tower speakers were nothing special. We presented the client with several options and, with his approval, scheduled an appointment to replace his Nautique Super Air tower speakers and radio.
Modern Source Unit
The boat came with a Clarion marine head unit in the glove box and an M101RXC remote mounted in a custom bracket on the lower left corner of the dash. The client wanted to add Bluetooth audio stream and support for music playback from his smartphone, so we suggested the impressive JL Audio MM100s MediaMaster source unit.
The MM100s has a modern full-color LCD screen and every source option conceivable, including an AM/FM receiver with RDS information display, a weather band tuner, MP3, WMA and WAV file playback, iPhone support, and Bluetooth A2DP audio streaming with AVRCP support. The MM100s is SiriusXM Ready so that the client can add a satellite radio tuner at a later date, should he wish.
Our installation technician created a mounting adapter for the new radio that fit in place of the original kidney-shaped mounting bracket for the Clarion remote. It was tricky to clone the shape of the original adapter, but it was well worth the effort. The new radio display is in a perfect location and is easy to use.
Nautique Super Air Tower Speakers
The client wanted his music to be loud and clear when he was towing wakeboarders or skiers. We suggested a pair of Wet Sounds REV410-W-SC speakers. The REV410 include a pair of 10-inch midrange drivers and a high-efficiency compression horn in each enclosure.
To give these speakers the power they need to get loud, we suggested upgrading the amplifier on the boat to a JL Audio M800/8. We bridged a pair of channels to each tower enclosure for a maximum of 200 watts to each enclosure. The remaining four channels of power feed the speakers in the boat with 75 watts each.
Amazing Marine Audio
The client returned to California Car Sounds in Campbell, California, to check out the upgrades to his boat. We climbed on board and cranked the system up. With amazing new speakers, lots of power and a new head unit, the system sounds amazing. If your boat needs a new system, drop into the store or send us an e-mail using our online contact form.