If you are looking for the ultimate tool to help navigate traffic safely, drop by California Car Sounds and Tint in Campbell and ask about our Ford, Chevy, GMC and Ram blind spot camera systems. These camera-based collision avoidance solutions are like having a personal co-pilot keeping an eye on the vehicles and objects around your truck. Let's look at some of the features of these unique video systems.
Ford, Chevy, GMC and Ram Blind Spot Camera System
The EchoMaster blind spot monitoring systems we offer are designed to integrate seamlessly into the factory infotainment system in your truck. There's no need for additional monitors or a new rearview mirror. The systems include a pair of weather-resistant, high-quality cameras with a bracket that allows us to install them underneath the side-view mirrors. Mounting them in this location, combined with the wide-angle lens of the cameras, allows you to see everything that is happening on either side of the vehicle.
Depending on the trim level of your truck, the blind spot camera system can work with your factory-installed backup camera, or we can add a camera to the rear of the vehicle to make parking and maneuvering safer and easier.
A forward-facing camera is also available as an option for these systems. We can configure the camera control system so that it displays the image from the camera for 30 seconds after you shift the transmission from Reverse to Neutral or Drive or until the vehicle reaches seven mph.
Easy-To-Understand User Interface
The camera interface and video switching module not only enable you to see the view you need when changing lanes or reversing, but you can manually select a split-screen view of all three rear-facing cameras or the left and right cameras using the on-screen graphical menu. Selecting individual cameras is always an option. You access the system by pressing and holding the Back button on your factory infotainment system for a few seconds.
Trailer Hauling Safety System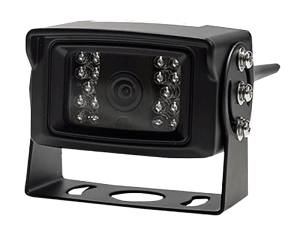 The EchoMaster IntelliHaul system upgrades the blind spot monitoring kit with a heavy-duty water-resistant camera with integrated infrared illumination so you can see in absolute darkness. This camera is designed to be installed above the rear door of your trailer. It uses wireless communication with the truck to display a crystal-clear image of the people or vehicles behind you. IntelliHaul makes parking and maneuvering safe and simple while eliminating the need for complex and potentially unreliable electrical connections to the trailer.
Expert Installation By California Car Sounds and Tint
Our installation team is available to integrate any of the EchoMaster Ford, GMC, Chevrolet or Ram blind spot camera systems we offer. The team has the tools, training and experience to ensure that the installation will be executed with care for maximum performance and longevity. If you are interested in a camera-based collision avoidance system for your truck, drop by California Car Sounds and Tint. Our team of product specialists will work with you to design a system that meets your needs. For more information, give us a call at 408-378-0409 or send us an e-mail using our contact page. We look forward to making your driving experience safer.