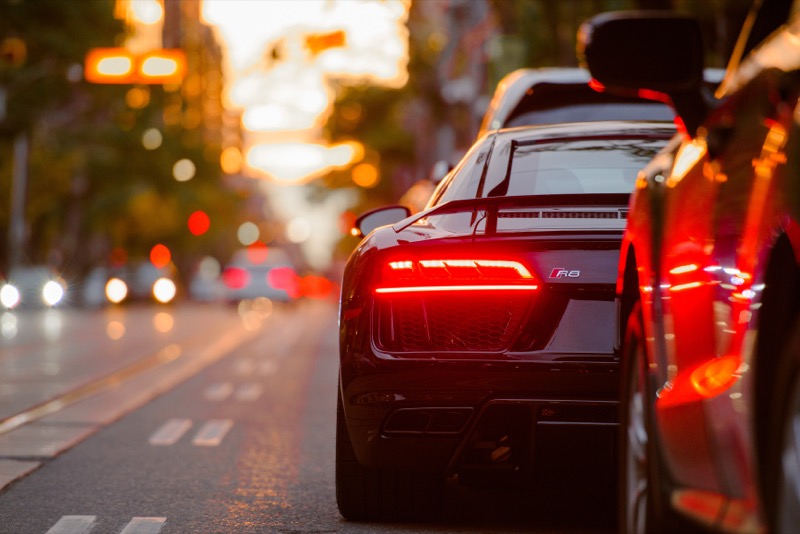 California Car Sounds and Tint in Campbell offers several options for adding a blind spot monitoring system to your car or truck. These systems work in the same way as the safety systems in a new premium-trim-level vehicle to let you know not to change lanes when someone is beside you. We have two solutions that allow us to upgrade your vehicle with this accident-preventing technology. Let's take a look at how these systems function and examine the applications and the features included with each solution.
How Blind Spot Monitoring Systems Work
In short, these systems use compact radar transceivers to monitor the area on either side of your vehicle for moving objects. Let's say you are driving in the curb lane on a freeway and a car slowly approaches yours in the left lane. The monitoring system will illuminate a small LED indicator on the left side of your dash to let you know when that vehicle is within about 30 feet of your car. If you activate your turn signal with the intention of changing lanes while the car is in your blind spot, the monitoring system will produce an audible alert and flash the warning indicator to let you know someone is beside you and that you should not change lanes.
Depending on your application, we can mount the visual warning indicators on the A-pillar trim pieces adjacent to the windshield or in the sail panels behind the rear-view mirrors in your doors. We'll consult with you before we begin the installation to choose a location that is easy to see, and we'll ensure that the system looks as though it was installed on the vehicle assembly line.
Blind Spot Systems for Cars and SUVs
If your vehicle has a plastic rear bumper cover, the Advent ADVBSD20 Blind Spot Detection System 2.0 is our go-to solution. This system uses a pair of waterproof sensors that our technicians mount to the chassis of your car or SUV. Once the sensors are mounted and aligned, the bumper cover conceals the hardware completely. Of course, the sensors carry an IP67 waterproof rating, and the system is backed by a three-year warranty, so you know it will be reliable.
Vehicle detection coverage extends from roughly the B-pillar of your vehicle to about 30 feet behind the vehicle, on both the left and right sides. This unit includes a built-in GPS receiver that automatically activates the system when your vehicle is traveling above 20 mph to prevent false alarms in parking lots or while maneuvering into your garage.
When backing up, the system switches to a cross-traffic alert mode that extends the monitoring zone laterally to detect vehicles approaching from either side as you back out of a parking spot. Warnings are provided out as far as 50 feet on either side of your vehicle.
Safety Systems for Pickup Trucks
If you own a pickup truck or an SUV with steel or aluminum bumpers and fenders, the Advent ACABSDLP License Plate Blind Spot Detection System is our solution. This safety system is integrated into a custom license plate frame and monitors the adjacent lanes behind your vehicle. Because the radar signals can't pass through metal, this license plate solution mounts externally, yet remains extremely compact and inconspicuous. The ACABSDLP automatically switches to cross-traffic alert monitoring mode when you are backing up.
Blind Spot System Comparison
Feature                                                                                            ADVBSD20        ACABSDLP
Works with Metal Bumpers                                                                   No                    Yes
Cross-Traffic Alerts when Reversing                                                      Yes                   Yes
Individual LED Indicators for Left and Right Alerts                                  Yes                  Yes
Audible Warnings with Turn Signal                                                        Yes                  Yes
GPS Speed Sensing and Automatic Activation above 20 mph              Yes                  Yes
Stealth/Invisible Installation                                                                   Yes                   No
Warranty                                                                                          3 Years             1 Year
Expert Vehicle Integration by California Car Sounds and Tint
While the features and performance of the blind spot monitoring systems we sell are important, so too is the quality of installation in ensuring everything functions accurately and reliably. Our team of technicians is trained to ensure every component is mounted securely and located accurately for optimal coverage. All wiring is run safely through the vehicle and secured in place with automotive-grade cloth or fleece tapes, premium vinyl electrical tape or cable ties. Electrical connections are soldered to eliminate the chance of an intermittent connection and to ensure the reliability of the system. In short, we execute each installation right the first time, every time.
The Ultimate Co-Pilot for Your Next Vacation or Commute
The roads and freeways around San Jose and Campbell get busier every day. California Car Sounds and Tint offers our clients a variety of collision avoidance technologies to help make your next outing a safe one. Whether you are interested in our radar-based blind spot monitoring systems, a camera-based system or even an advanced forward collision system, we invite you to drop by our store and speak with one of our product specialists. They can help you choose a solution to meet your needs. For more information or to schedule a consultation, give us a call at 408-378-0409 or use our contact page to send us an e-mail.