A Chevrolet dealership from San Jose contacted California Car Sounds and Tint in Campbell to talk about a 2017 Silverado Alpine Restyle system as part of an upcoming promotion. We showed them the Alpine Restyle solution for 2014-up Chevy Silverado pick-ups. As soon as they saw the massive 10-inch screen, they knew they had to show this to their customers! We set up an appointment to install the new source unit, along with a few accessories.
Alpine X110-SLV Restyle
As with all Restyle solutions from Alpine, the X110-SLV is specifically designed for this application. The system features an entirely new dash bezel with integrated controls for the new source unit. It provides the room for the massive 10-inch screen. The kit is finished in the same premium surfaces as the original dash piece, so it looks like it came from the assembly line.
The new source unit includes Bluetooth hands-free calling and audio streaming, DVD playback (when parked), an AM/FM tuner with HD Radio, and it supports digital media formats like MP3 and WMA files. Built-in navigation ensures that you can get where you need to go quickly and efficiently.
All Restyle kits include a vehicle integration module provided by iDataLink. This allows for the factory climate controls, steering wheel audio controls, parking sensors and the factory rear view camera to work seamlessly with the new source unit. If the truck includes OnStar or the Bose audio system, these systems are compatible as well.
Enhanced Safety and Convenience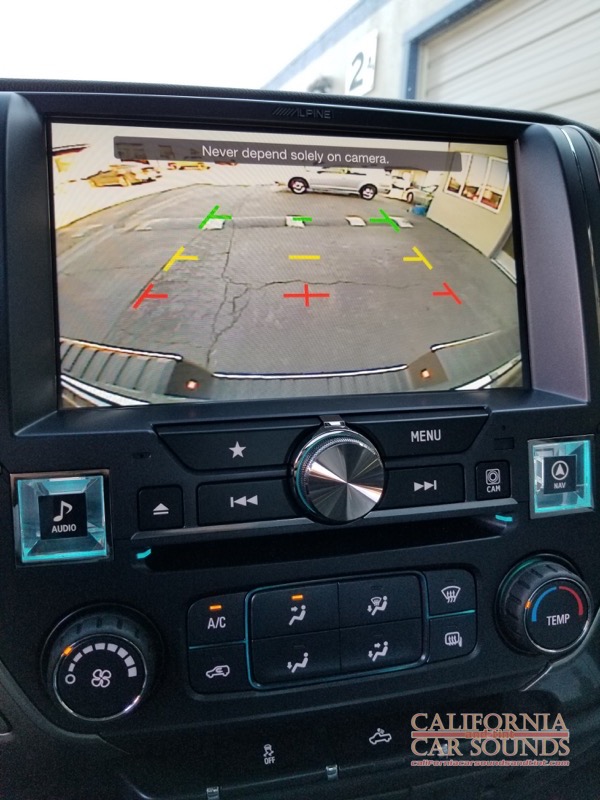 With the Restyle system using the rear parking sensors and camera that came with the truck, we added an Alpine HCA-257FD Multi-View front camera system to the truck to make it easier to park. The beefy front end on this truck looks awesome, but the high hood line makes it hard to see parking blocks and curbs. The Alpine camera and new source unit fix that.
Satellite Radio Tuner Upgrade
As most new vehicles come with SiriusXM, we added an SXV300 to the radio so that the new owner can enjoy whatever music or entertainment he wants. Satellite radio is great for long-distance drivers – they can listen to the same type of programming for hours without interruption.
2017 Silverado Alpine Restyle Project
With the system installed and tested, it was time to turn the LTZ trim level 2017 Silverado Alpine Restyle project back over to the dealer. We know that their customers will be impressed with the source unit upgrade and added camera. If you are in the San Jose or Campbell area, drop into California Car Sounds and Tint to see if we have an Alpine Restyle solution for your truck. You can reach us by phone at 408-378-0409 or by e-mail using our contact form for more information.