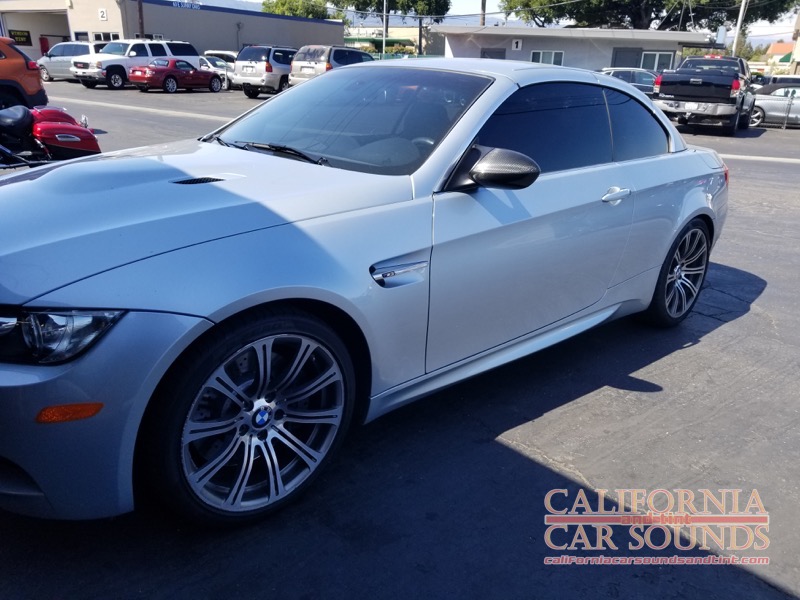 A client from Santa Clara recently dropped into California Car Sounds and Tint to inquire about a 2012 BMW M3 bass upgrade. As with almost all factory-installed sound systems, the bass response in the M3 was weak and lifeless. The client wanted an upgrade that wouldn't intrude on the storage space too much and would bring the stereo to life.
Custom BMW M3 Bass Upgrade
To improve the low-frequency performance of the sound system in this convertible BMW, we fabricated a custom subwoofer enclosure for a single JL Audio 10W6v3 subwoofer. The enclosure is T-shaped and positions the driver in the center of the vehicle, pointed directly at the ski pass-through between the rear seats. We finished the enclosure in a gray carpet that is similar to that used in the trunk of the M3.
JL Audio Subwoofer Amplifier
The next step in the project was to install a subwoofer amplifier and integrate it into the factory audio system. We used a JL Audio LoC-22 line-output converter to convert the audio signal going to the small subwoofers installed under the seats into something that we could feed into the subwoofer amp.
A JL Audio VX600/1i amplifier powers the 10W6v3 subwoofer. Our installation team mounted the amp in the storage area under the floor of the trunk. The amp fits perfectly in this space, thanks to its rounded corners. As you can see, all the wiring to and from the amp is bundled neatly using automotive-grade fleece tape for a factory-installed look. The fleece also helps to prevent potential buzzes or rattles.
Remote Level Control
The last component to install was a DRC-100 remote in the center console of the BMW. The VX600/1i includes an advanced digital signal processor that allows the function of this remote to be assigned however the client wants. In this system, the remote acts as a level control for the subwoofer so that that client can adjust the bass for his mood or the type of music he is listening to.
San Jose's Car Audio Upgrade Experts
With the equipment installed and the system levels set, the client came back to California Car Sounds and Tint to have his first listen to the system. His BMW M3 bass upgrade sounded exactly the way he wanted, and the fact that we only used three inches of trunk space met his goals perfectly. The client plans on upgrading the rest of the system in the near future. If you are interested in improving the sound of your mobile audio system, drop by our store and speak with a member of our sales team. We'd be happy to design, fabricate and install a custom solution for your application. For more information, give us a call at 408-378-0409 or send us an e-mail using our online contact page.