California Car Sounds and Tint in Campbell is proud to announce that the new JL Audio VXi amplifiers are now in stock. This series of eight compact amplifiers features the latest audiophile-grade components and design, along with advanced digital signal processing to provide our clients with jaw-dropping performance and efficiency.
A Complete DSP-Equipped Amplifier Series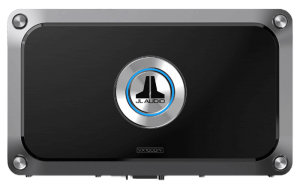 One of the key features of the new VXi amplifiers is that with eight models to choose from, the vast array of channel configurations ensures that we can design an audio system that will meet your requirements perfectly. From a simple system built around a four- or five-channel amp to an all-out concert-grade experience with more than 20 discrete channels of amplification, the VXi series can do it all.
Model        Channels    Watts/Channel
VX600/1i    1        1 x 600W at 2 Ohms
VX1000/1i    1        1 x 1000W at 2 Ohms
VX600/2i    2        2 x 300W at 2 Ohms
VX400/4i    4        4 x 100W at 2 Ohms
VX700/5i    5        4 x 100W at 2 Ohms + 1 x 300W at 2 Ohms
XV1000/5i    5        4 x 100W at 2 Ohms + 1 x 600W at 2 Ohms
VX600/6i    6        6 x 100W at 2 Ohms
VX800/8i    8        8 x 100W at 2 Ohms
NexD2 Switching Technology
Using state-of-the-art components like Infineon DirectFET MOSFETs, the design of the VXi amplifiers offers exceptional power delivery and efficiency with minimal radiated noise. The carte blanche design of the VXi amplifiers allowed JL's Arizona-based design team to optimize the placement of each component on the circuit boards to reduce unwanted interaction between channels for improved stereo separation and reduced distortion.
Advanced Digital Signal Processing Features
Every VXi amplifier, from the pair of monoblocks to the five channel amps and the amazing eight-channel VX800/8i, includes advanced onboard digital signal processing. Once we've installed it in your system, our team of experts can use the crossover, equalization, signal delay and output trim adjustments to optimize the performance of each speaker. The result is truly natural tonal balance and an exceptionally detailed soundstage with amazing imaging. If you ever wanted to know what it was like to sit at the console of the best recording studios in the world, we can recreate that experience in your car or truck.
System Control and Expansion Options
A unique feature of the JL Audio VXi amplifiers is their ability to be linked together using the VXi-HUB. We can combine up to 10 amplifiers to ensure that your system will sound stunning. The VXi amps are compatible with JL's DRC-100 and DRC-200 remote controls, and a new DRC-205 remote is coming soon. These remotes can be configured to let you fine-tune the subwoofer level to suit your mood or load different system tuning presets for different listener configurations.
Factory Stereo Integration Options
If you can't replace the radio in your car or truck, don't fret. All VXi amplifiers feature balanced differential inputs that will accept up to 16 volts of signal to work with your factory radio. Each amplifier also has an optical digital (TOSLINK) input that is compatible with JL's FiX series of integration signal processors. The amplifiers include automatic turn-on circuitry that works by detecting an audio signal or the presence of a BTL-style amp built into a head unit or factory amplifier.
Upgrade Your Audio System with JL Audio VXi Amplifiers Today!
Whether you are looking for the best subwoofer system upgrade possible or a complete sound system overhaul, the new VXi amplifier series has a solution for absolutely every application. Their compact size, exceptional flexibility and amazing performance will undoubtedly make them the go-to solution for our discerning clients. For more information about the VXi amplifiers, drop by California Car Sounds and Tint in Campbell and speak with a member of our team. You can also reach us by e-mail using our online contact form.