Did you know that California Car Sounds and Tint in Campbell can add a remote car starter to your vehicle that uses the factory key fob? If you have a keyless entry system with a stand-alone key fob or a remote integrated into the handle of your key, we can remote start your vehicle quickly and easily. Read on to find out how.
Lock-Lock-Lock, Start!
Our remote car starter systems are an excellent way to give your air conditioning system a head start at making your vehicle more comfortable. Many clients with breathing problems rely on giving their vehicles a few minutes to cool off before they drive. A remote starter can do this for you, without the need to go to your car or truck.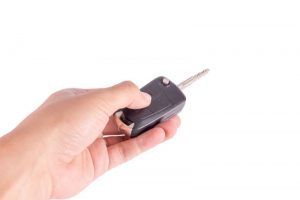 Historically, remote starter systems included a wireless radio-frequency remote control that we would attach to your keychain. Some clients see this solution as clutter and hesitate to add remote starters to their vehicles. Our new integrated remote start systems monitor the communication system in your vehicle. As soon as you press the lock button on your factory remote three times, our remote starter starts your vehicle. We call this a "3x Lock" or "three times lock" start.
When you get to your car, all you have to do is press the unlock button on your remote or the keyless entry button on the door handle, then get in. Put the key in the run position, or if you have a proximity key system, just put your foot on the brake pedal, put the car in gear and drive away. It simply couldn't be easier to do!
If it is warm out, set your climate control to cool off the car. If you have traveled into the mountains or up north, then crank up the heat. Either way, your car will be more comfortable when you arrive.
Factory Key Fob Remote Starter Installation
Our installation technicians will take the utmost of care while your vehicle is in our possession. Each electrical connection we make will be mechanically reliable and offer excellent conductivity. We mount hardware to ensure it will be reliable, taking into account heat sources, electrical interference and vibration. We are careful with the path we choose to run wires, keeping them away from moving components like the steering column, parking brake and pedal assembly. Once we complete an installation, most people can barely tell we worked on the car.
Other Remote Control Options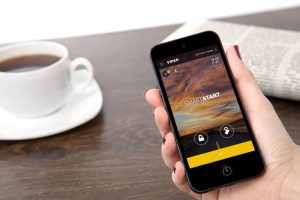 If you want more range that a factory remote control provides, we offer long-range remotes that can operate from more than a mile way. Finally, for the ultimate range, we can integrate a smartphone communication system. To start your car, just launch an app on your iPhone or Android phone and press a button.
Schedule Your Remote Car Starter Installation Today
Drop into California Car Sounds and Tint today and talk to a member of our sales team. They would be happy to demonstrate just how convenient a remote start with factory key fob activation can be and confirm compatibility with your vehicle. You are welcome to call us at 408-378-0409 or send us an e-mail using our online contact FORM for more information about any of our products and services.