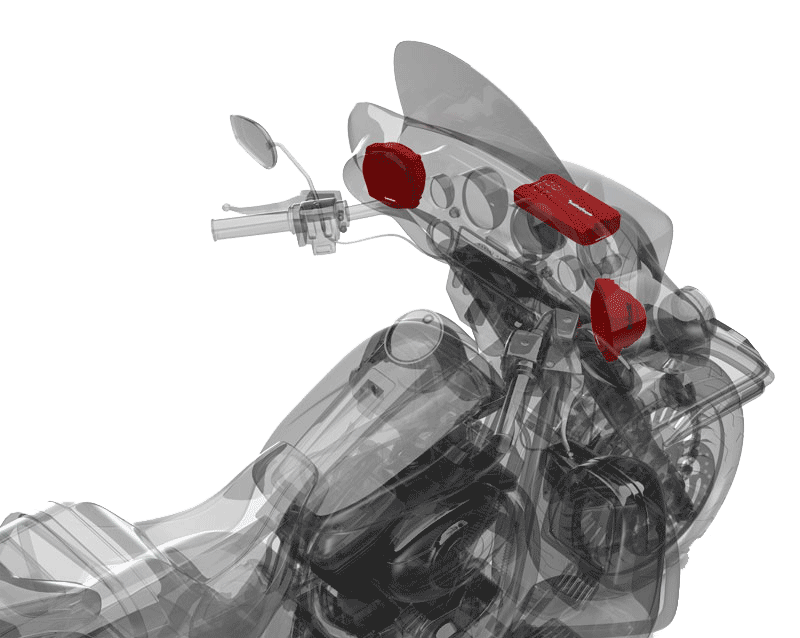 If you have a 1998 through 2013 Harley-Davidson touring bike and want to upgrade the sound system, drop by California Car Sounds and Tint in Campbell and ask about the new Rockford Fosgate audio kits. Designed by the music fanatics at Rockford, these kits include a new radio, upgraded speakers, a high-power amplifier and all the hardware we need to complete the installation on your touring bike. Let's take a quick look at the options available to get great sound on your next ride.
The PMX-HD9813 Digital Media Receiver
Upgrading the radio on a Harley has never been easier. The new PMX-HD9813 radio is an evolution of Rockford's amazing marine receivers but is designed to drop into the factory radio location in your 1998 through 2013 Harley touring bike. The radio features a weather-resistant front panel with a large rotary volume control and an easy-to-see color display. An AM/FM tuner, Bluetooth audio streaming and support for digital audio file playback from a USB stick are included. All 12 of the upgrade kits we are going to look at include this radio.
Harley-Davidson Stage 1 Audio System Upgrade Kits
Rockford's HD9813RG-STAGE1 and HD9813SG-STAGE1 kits include a pair of speakers and one of the new PMX-HD9813 radios. The HD9813RG-STAGE1 kit is designed for 1998 through 2013 Road Glide bikes with the shark nose fairing. The HD9813SG-STAGE1 uses a different version of the 6.5-inch coaxial powersports speaker and is compatible with 1998 through 2013 Electra Glide bikes and 2006 through 2013 Street Glide bikes with the batwing fairing.
If you own a 1998 to 2013 Road Glide Ultra with the shark nose fairing, the HD9813RGU-STAGE1 kit adds a set of TMS5 5.25-inch coaxial rear speakers to the radio and fairing speakers. The HD9813SGU-STAGE1 provides the similar four-speaker solution for 1998 through 2013 Electra Glide Ultra Classic and Electra Glide Ultra Limited bikes.
Bigger Sound with Harley Stage 2 Audio Upgrade Kits
If you want to be able to crank your tunes when on the freeway or drown out a loud exhaust system, we recommend the Stage 2 kits. Based on the same components as Stage 1, Stage 2 adds a four-channel TM400X4ad amplifier. This marine-grade amplifier can produce up to 100 watts into each of the four speakers to ensure that your music is loud and clear all the time. Rockford includes the RFK-HD9813 amplifier installation set with each kit. A mounting bracket for the amplifier and all the wiring and cables we need to complete the installation are included.
Enjoy a Rock Concert on Wheels with Stage 3 Performance
Sometimes, you just have to have a little bit more music. In those cases, stepping up to Stage 3 is the way to go. The Stage 3 kits take the awesome source unit, speakers and amplifier from Stage 2 and add the TMS69BL9813 saddlebag lid speaker upgrade kit. This premium rear speaker upgrade kit includes a pair of TMS69 6×9-inch speakers, custom mounting brackets and grilles that are designed to work with the existing bag lids on the back of your bike. Our technicians use the provided template to cut out the corner of the lid so we can install the bracket and grille. You'll be back on the road in a few hours with a sound that's truly hard to believe!
Upgrade Your Harley Stereo Today!
If hearing your music over the potato-potato burble of your Harley's exhaust sounds appealing, drop into California Car Sounds and Tint near San Jose and ask about the Rockford Fosgate audio upgrade kits. You can also reach us by e-mail or by phone using our contact page.