If you are looking for the ultimate portable radar detector, drop by California Car Sounds and Tint and have a look at the K40 RLS2. Equipped with many of the same technologies as the RL360i, the RLS2 provides exceptional sensitivity. It is combined with an internal GPS and an intelligent K-Band filter to prevent false alarms. Let's look at how this detector can help prevent speeding tickets.
Compact Portable Performance
The K40 RLS2 is a compact and lightweight portable radar detector designed to mount securely to your windshield. Included is a triple suction cup window mount. K40 includes both coiled and straight power cables with cigarette lighter plugs.
The unit provides clear voice alerts when it detects laser or radar signals. A Geiger-counter type tone provides intuitive signal strength information. The front display is an eight-character dot matrix display featuring red illumination with day, dust and night settings.
False Alarm Prevention Technology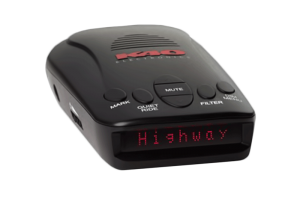 One of the best features of the RLS2 is the K-Band filter. The system is nearly impervious to false alarms caused by radar-based parking, cruise control and blind spot monitoring systems. The built-in, high-sensitivity GPS receiver allows you to mark the locations of false alarms, speed traps, school zones and red light cameras. The system will also display your vehicle speed and heading and will provide warnings if you exceed a preset speed.
The Quiet Ride mode mutes alerts when you are below a preset speed. After all, if you aren't speeding, you don't need to know that someone has measured your speed.
System Hardware
The onboard DSP radar receiver will capture X, K and Ka bands and the system does include Laser/Lidar detection features. K40's RDD Guard prevents the RLS2 from being detected by radar detector detectors. The Setup menu in the RLS2 includes 13 different options to let you personalize the performance of the system.
Experience the K40 RLS2 Today!
If you are in the market for a portable radar detector, we invite you to visit California Car Sounds and Tint and have a look at the RLS2. Our team would be happy to answer questions you may have, and you can always send us an e-mail using our contact page for more information.