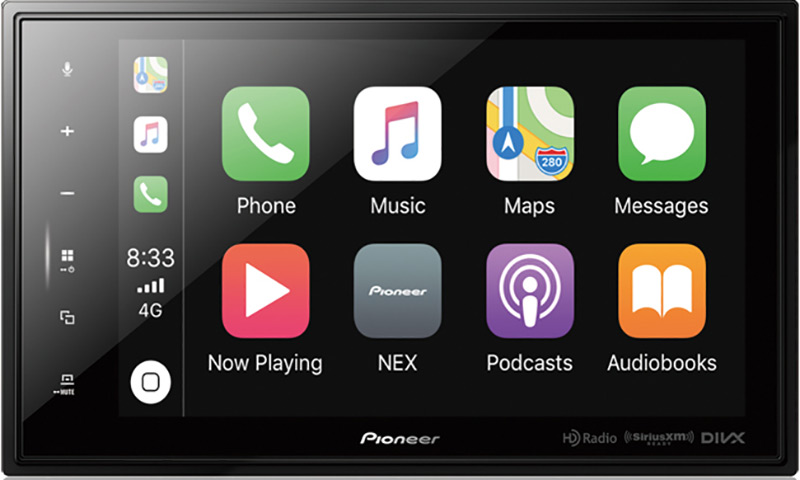 San Jose clients looking for a truly unique digital media receiver for their car or truck will want to visit California Car Sounds and Tint to check out the Pioneer DMH-C5500NEX. This amazing radio features a two-piece design that includes a single-DIN hideaway chassis and an easy-to-read 8-inch touchscreen display that we can integrate into your dash. Intrigued? Read on to find out more.
Pioneer DMH-C5500NEX Features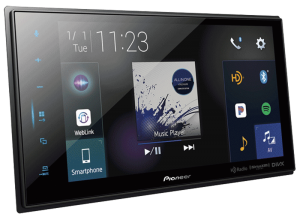 Beyond the amazing 8-inch capacitive-touch display and 112-color control panel, the DMH-C5500NEX includes all of the modern connectivity and entertainment sources you could ever need. Apple CarPlay and Android Auto smartphone connectivity let you communicate or choose your entertainment source using the voice recognition features of your smartphone. Of course, you can also use Google Maps or Waze with either phone technology to help you reach your destination quickly and safely while avoiding traffic jams and accidents.
Built-in HD Radio delivers crystal-clear terrestrial radio, and we can upgrade your system with a SiriusXM satellite radio tuner so you can enjoy your favorite music genre anywhere in the country. The radio also includes dedicated support for Pandora and Spotify, so you can stream the music you want to hear quickly and easily.
A USB port provides up to 1.5 amps of current to charge your phone, or you can connect a USB memory stick to play digital media files. The system is compatible with MP3, WMA, AAC, WAV and FLAC audio formats as well as MPEG, AVI, DivX and WMV video formats.
System Expansion Options
With dual camera inputs, we can add a backup camera to help make parking and maneuvering your vehicle safer and a second camera on the front so you can see directly in front of the vehicle. The Pioneer DMH-C5500NEX includes support for the amazing iDatalink Maestro RR vehicle integration module.
Audio Features
A 13-band equalizer and adjustable system crossovers allow our team to fine-tune the performance of your speakers for amazingly realistic sound. With the 4-volt RCA preamp outputs, we can upgrade your vehicle with external amplifiers. Whether functioning on its own or as part of a massive entertainment system, the DMH-C5500NEX is an amazing source unit.
Experience the Pioneer DMH-C5500NEX Today!
If smartphone connectivity and a massive screen are part of your requirements for your next car radio, drop into California Car Sounds and Tint in Campbell and ask for a demonstration of the Pioneer DMH-C5500NEX digital media receiver. Be sure to bring your smartphone so you can see just how easy it is to communicate safely while on the road. Our team would be happy to provide you with an obligation-free quote to integrate this amazing radio into your vehicle. For more information, give us a call or send an e-mail using our contact form.