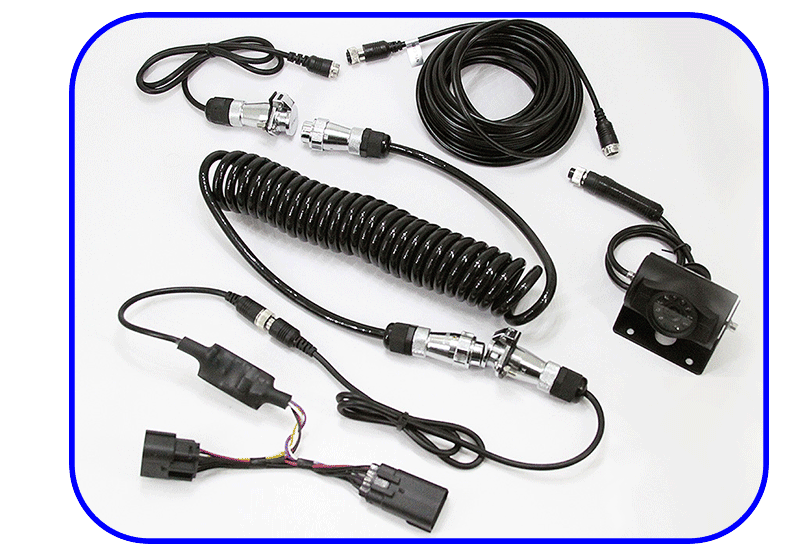 The NAV-TV Trailer-CAM View system makes it easy for the team at California Car Sounds and Tint to add a reverse camera to your trailer. NAV-TV, a world leader in design and manufacturing of vehicle interface solutions, has taken all the guesswork out of adding an extra camera to your vehicle to make driving, maneuvering or parking a trailer easier and safer. Let's take a look at how these kits work.
NAV-TV Trailer-CAM View Systems
Most new Ford, Chevy/GMC and RAM pickup trucks include a backup camera that is integrated into the tailgate handle. When you select reverse gear, the image from the camera is displayed automatically on the screen of the infotainment system. Imagine if you could switch to a camera on the back of a trailer automatically. With the Trailer-CAM View system, that's exactly what happens. Once you've connected your trailer to the vehicle, when you plug in the weather-resistant camera cable, the system will automatically detect your trailer. Now, when you put the vehicle in reverse, you'll see what's behind the trailer. There are no buttons to push and no programming is required.
T-Harness-Based Camera Interface
The Trailer-CAM View systems are designed to interface into the factory-installed backup camera system on your Ford, GM or RAM truck. The system includes vehicle-specific T-harnesses that our team uses to connect to the factory wiring without affecting your warranty or reducing reliability.
Trailer Backup Camera Hardware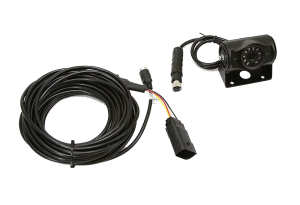 These trailer safety systems include a heavy-duty camera that offers a wide 120-degree field of vision and integrated infrared LED transmitters so that you can see perfectly in absolute darkness. The camera has an IP67 water- and dust-intrusion rating, so you know it can handle everything Mother Nature can throw at it.
The camera system includes heavy-duty weatherproof connectors for the back of the truck and the trailer. When not in use, spring-loaded covers keep dirt and debris out of the connectors. A coiled connecting cable is included to connect the trailer camera to the truck. Finally, the trailer kit includes a 10 meter (32.8 foot) cable so we can mount the camera wherever you want. NAV-TV offers 5- and 10-meter extension cables for large horse trailers, race car trailers and fifth-wheel applications.
Which Trucks Are Compatible with the NAV-TV Trailer-CAM View System?
NAV-TV currently has applications for Ford F-150, Ranger and SuperDuty vehicles, including the 2016 and newer SuperDuty applications with the five-camera Ultimate Trailer Package. For General Motors vehicles, solutions are available for 2014 and newer GMC/Chevy 1500, 2014 Colorado and Canyon trucks and 2015 and newer HD2500 trucks. For RAM owners, kits are available for the 2013+ Ram 1500 and 2015+ Ram 2500/3500, excluding the 2019 trucks with the 19-inch screen.
Expert System Installation Services
If you are interested in having a camera system added to your trailer, drop by our store and let a member of our team inspect your vehicle. Once we know which camera connector we need and determine the right amount of cable for the trailer, we can turn the project over to our team of expert installation technicians. They will handle mounting the camera and connectors and will run the cable through the vehicle to ensure that it's safe and secure. Finally, they'll test the system and make sure the camera is aligned perfectly so that you can see everything behind the vehicle.
For more information about our trailer camera solutions or any of the other collision avoidance systems we offer, drop by our store in Campbell and talk to a member of our sales team. You can also reach us by phone or by e-mail using our online contact form.