If you live near San Jose and are shopping for speaker upgrades for your Harley-Davidson motorcycle, drop by California Car Sounds & Tint and check out the new kits from Focal. Designed using Power- or Access-Series components, these kits are available for 1998 through 2013 and 2014 and newer Electra Glide, Street Glide, Ultra Classic and Road Glide applications. Whether you want clearer sound or more output capability to drown out exhaust and wind noise, these Focal speakers are a perfect choice.
1998 through 2013 Harley Touring Speakers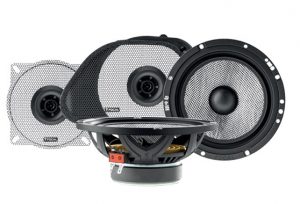 The HDA 165 – 98/2013 and HDK 165 – 98/2013 speaker sets feature 6.5-inch woofers and Harley-specific grilles with integrated tweeter mounting locations in a package designed to fit your touring bike without the need for modifications. The Access Series HDA 165 – 98/2013 is based around the same Dual Fiberglass Structure (DFS) cone as is used in the 165 AS components. A rigid ABS plastic basket supports the motor structure, and the 1-inch Kapton former is at the heart of the voice coil that provides 2.5 mm of excursion in each direction. The tweeter uses the same inverted aluminum design as the car systems to produce clear and detailed high-frequency performance. Power handling is rated at 80 watts.
Stepping up to the HDK 165 – 98/2013 brings a cast aluminum woofer basket and the recognizable K2-Power glass fiber/foam core yellow woofer cone design. In this application, Focal uses a poly dust cap and a rubber surround. The K2 M-shaped tweeter is molded into a compression horn that fits into the stamped steel Harley-specific grilles included with the kits. With 5 mm of Xmax available from the woofer, the 1.25-inch voice coil offers an increased power handling rating of 125 watts.
Speaker Kits for 2014 and Newer Harley Motorcycles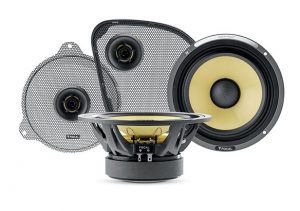 If you have the latest generation of Harley Touring bike, Focal offers these same designs in the HDA 165 – 2014 UP and HDK 165 – 2014 UP with grilles designed for these applications.
Just as with the associated car kits, your decision to choose the Access or K2 Power systems will depend on the equipment in your system and your listening style. Access speakers offer good efficiency, making them a great choice for low- to mid-power systems. If you are cruising around town, these are a great choice. The K2 systems work fantastically with high-power amplifiers to ensure that your music is loud and clear if you're taking a run down the Pacific Coast Highway or the 101 down to Los Angeles.
Expert Installation and Tuning
While choosing premium speakers is important, so too are the installation and configuration of the products you choose. Our team of expert technicians has the tools, training and experience to make sure that your audio upgrade sounds amazing and performs reliably for many years. We never skimp on wiring or how we make electrical connections. Every cable is bundled and secured to prevent rattles or vibrations.
We take the time to ensure that the amplifier you choose is configured to work with your factory radio and the speakers you have chosen. We can install and configure a digital signal processor to create an audio system that delivers smooth and natural frequency and compensates for the EQ curve built into the factory Boom Box! radio.
Knowing how Harley owners take pride in their vehicles, we take extra care to protect the paint and brightwork on your bike while we install your sound system upgrade.
Visit Silicon Valley's Motorcycle Audio Experts
Drop by California Car Sounds & Tint in Campbell to learn more about the new Focal Harley-Davidson speaker upgrade kits. Feel free to give us a call or send our team an e-mail using our contact form for more information or to schedule a consultation.