The Alpine HCE-C305R camera system from California Car Sounds and Tint in Campbell is unlike any other safety solution on the market. The HCE-C305R combines a wide-angle backup camera with intelligent image processing technology to alert drivers to the presence of oncoming people or vehicles when backing up. This amazing technology makes this the most intelligent collision prevention system we offer! Let's look at it in more detail.
Alpine HCE-C305R Camera System Hardware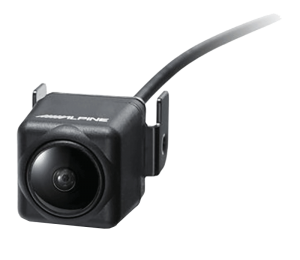 The HCE-C305R starts with a 307,200-pixel camera with an impressive 190 degree horizontal and 155-degree vertical viewing angle. We can mount the camera on the trunk lid, tailgate or bumper of almost any vehicle for complete visibility when backing up. With its low-light sensitivity rating of 1.5 lux, the camera can clearly detect objects in near absolute darkness.
The control unit of the camera system contains the image processing hardware for the system. Unlike conventional cameras that simply show an image of what's behind the vehicle, the Alpine HCE-C305R camera system analyzes objects within the image. The camera system can determine if an object in its field of vision is moving independently of or directly proportional to the motion of your vehicle to gauge whether it poses a risk.
If the system detects an oncoming vehicle, person or object, it will provide three warnings. The first warning is a beep that alerts you to the chance of a collision. Next, the system will display a series of three arrows on the side of the screen from which the object is approaching. Third, once the object is visible on the screen, it will highlight the object with a red square.
Fully Active Backup Camera System
We call this an active safety system because it provides a warning automatically. A passive system, like a conventional backup camera, requires that you look at the camera image to identify a potential hazard. The HCE-C305R is like having a backup camera, parking sensors and a cross-traffic alert system all in one unit.
Expert Installation by California Car Sounds and Tint
Our team of installation technicians can integrate the HCE-C305R with almost any aftermarket multimedia receiver, and we have interfaces available for many factory-installed infotainment systems. The camera includes a compact controller that will let you change views from Rear to Panorama, Corner or Ground, as well as turn the distance lines off and on. Once installed, the system is easy and intuitive to use with only a few minutes of training.
Protect Yourself and Those Around You with a Backup Camera
When it's time to add a safety system to your vehicle, drop by California Car Sounds and Tint near San Jose and speak to one of our product specialists. They will help design a safety solution that meets your needs. For more information or to schedule a consultation, give us a call or send us an e-mail using our contact page.