A local boat dealer referred a San Jose-based client to California Car Sounds and Tint for a 2018 Malibu 23 audio system upgrade. The client wanted to upgrade the stereo system that came with the boat and add high-output wakeboard tower speakers. After looking at the boat and discussing how it would be used, we put together a plan that would give the client the performance he wanted.
Wet Sounds Wakeboard Tower Speakers
The client wanted whoever was at the end of the tow rope to be able to hear the music clearly. Marco, one of our expert technicians, installed four Wet Sounds REV10 10-inch horn-loaded tower speakers on the G4 wakeboard tower. We used Wet Sounds TC3 fixed clamps to secure these large enclosures to the sides of the tower and ensure they would stay put, even when the water is rough.
JL Audio Subwoofer Upgrade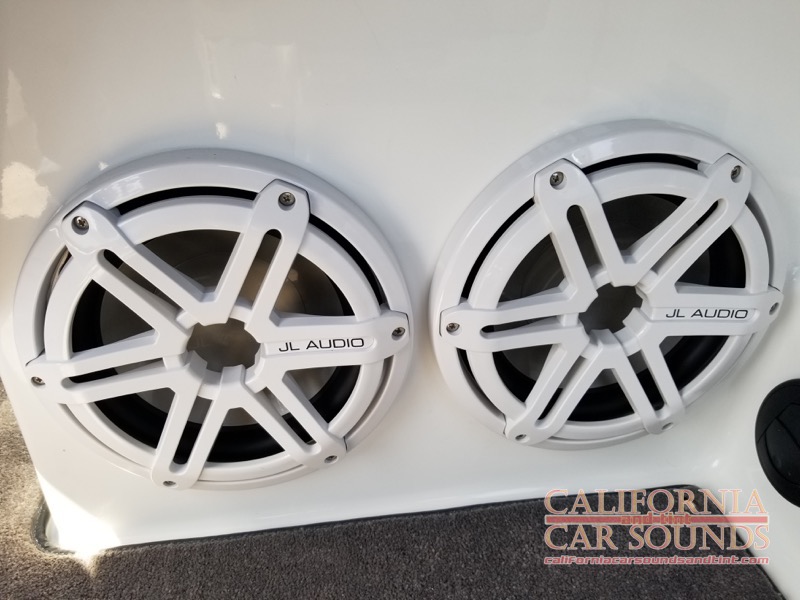 Next on the list was the installation of a pair of JL Audio M10IB5-G-WH 10-inch subwoofers to warm up the sound and give the system some real impact. The subwoofers are mounted in front of the helm on the fiberglass panel in front of the driver's legs. The infinite baffle design of these subs allows them to work properly without the need for a dedicated enclosure.
Malibu 23 Audio System Amplifiers and Bluetooth Interface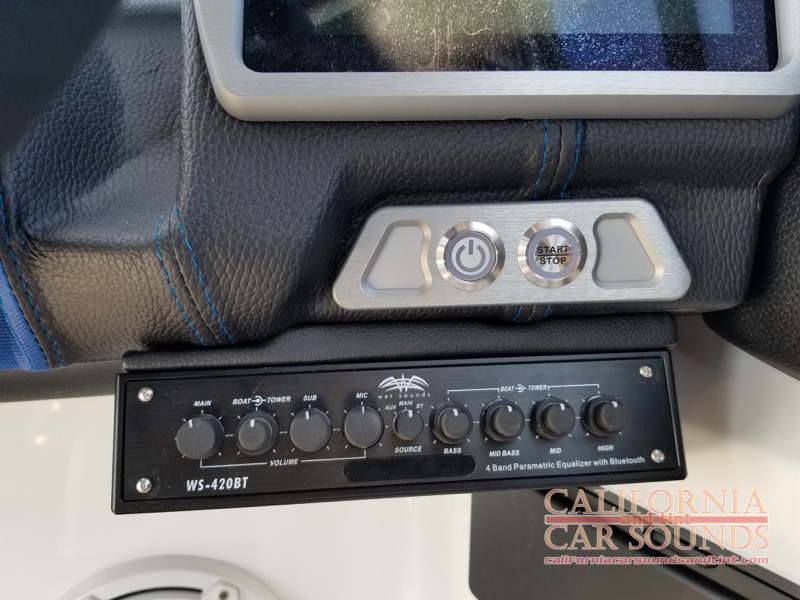 We started by removing the Malibu amplifier that powered the six factory-installed 8-inch coaxial speakers in the boat. We installed a Wet Sound SYN-DX4 four-channel amplifier in its place. The SYN-DX4 can produce 125 watts per channel to ensure the speakers sound great at all volume levels.
We added a pair of matching SYN-DX2.3HP amplifiers to power the subwoofers and the wakeboard tower speakers. Each amplifier is capable of delivering 1,200 watts of power when bridged into a 4-ohm load.
Marco finished the project by installing a Wet Sounds WS-420 BT equalizer-preamp with Bluetooth under the dash on a custom vinyl-wrapped panel. The client can use the Bluetooth connection to play music from his smartphone without the need for any wiring.
Malibu 23 Audio Upgrade
The client returned to California Car Sounds and Tint in Campbell to check out his new Malibu 23 audio system. He was thoroughly impressed by the clarity and sheer output capabilities of the new system. The installation was neat and tidy, and everything was mounted safely and securely. If you are in the Santa Clara or Santa Cruz county areas are and are looking for upgrades to your boat audio system, drop by our store at 60 East Sunnyoaks Ave., give us a call at 408-378-0409 or send us an e-mail using our online contact form.