When it comes to adding great bass to a car, truck or SUV, one of the highest performing solutions we have available here at California Car Sounds and Tint are JL Audio Stealthboxes. Based in Miramar, Florida, JL Audio is one of the premier amplifier, speaker and subwoofer manufacturers in the United States. Its Stealthboxes are vehicle-specific subwoofer enclosures with applications for more than 25 vehicle brands and more than 100 applications. Let's look at why a Stealthbox is the fastest, most cost-efficient way to add high-performance bass to your vehicle.
The Stealthbox Design Process
When a new model of a popular vehicle enters the market, the product development team at JL Audio begins the process of reviewing the platform. They measure, photograph, prototype and test subwoofer enclosure designs until they find a solution that sounds amazing while minimizing the impact on vehicle usability and storage. Their creativity and experience lead to unique solutions like console and false-floor mounted enclosures that are heard but not seen. This philosophy of integration and invisibility is the driving factor behind the Stealthbox line.
Premium Subwoofers Add Design Flexibility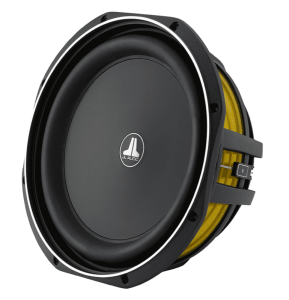 JL Audio is well known for its TW1, TW3 and TW5 series of shallow-mount subwoofers. The design of these transducers allows for the creation of incredibly low-profile enclosures that fit under and behind seats where conventional subwoofers would never fit. The small enclosure air volume requirements of the TW3 allow for deep bass from a very small space. JL Audio Stealthboxes are some of the best subwoofer options for pickup trucks and SUVs, thanks to their unique subwoofer designs.
Attention to Detail
If you search JL Audio's website, you can quickly see the fanatical attention to detail in its subwoofer enclosure designs. They balance performance and cosmetic integration to optimize every aspect of the solution. They grade the color-match quality of carpets so there are no surprises once the system is installed. Where possible, Stealthbox enclosures use factory fastener locations to secure them in place for added safety and reliability.
Stealthbox Enclosure Construction
The construction of each Stealthbox enclosure starts with a set of fiberglass molds. JL Audio technicians apply resin-impregnated fiberglass into the molds and trim the edges for a perfect fit. Once cured, the parts are trimmed once again and the two halves are bonded together using automotive-grade, high-strength adhesives.
Once the raw enclosure is ready, the cabinet is brought to the finishing area, where experts apply automotive-grade carpets chosen to match your vehicle interior as closely as possible. JL Audio grades each carpet as Perfect, Excellent, Good, Fair or Poor to let you know how closely the finished product will match your vehicle interior. Many Stealthbox solutions are available in different colors where required. The upholstery technicians bend, stretch and mold the carpet around the enclosure and secure it with adhesives that ensure your enclosure will look great for the life of your vehicle, or longer.
The last step is to install the JL Audio subwoofer that the enclosure was designed for. As each enclosure is unique, they are optimized for specific speakers and specific applications to provide the best bass performance possible. Unlike generic enclosures, the performance of a Stealthbox is predictable and the system is inherently reliable.
JL Audio Stealthboxes Offer Unbeatable Value
The fabrication team at California Car Sounds and Tint can easily create a custom fiberglass enclosure for your car, truck or SUV. After adding up the design and fabrication labor costs with the required materials, choosing a Stealthbox is the cost-effective way to go. Drop by California Car Sounds and Tint today to see if there is a Stealthbox available for your vehicle. If you can't drop by, give us a call at 408-378-0409 or send us an e-mail using our online contact page.