Upgrading your car or truck lighting system with Heise LED bulbs or light bars from California Car Sounds and Tint in Campbell is a great way to improve your safety at night. High-performance LEDs deliver impressive output and long life. Heise offers a variety of lighting solutions including replacement bulbs, accent lighting, work lights, trailer lights and off-road LED light bars and cube lights.
Upgrade Your Headlights with LED Bulbs
If your vehicle came with incandescent bulbs, an LED upgrade is a simple and reliable way to improve long-distance viewing while adding that bright white look found on luxury vehicles. Heise bulbs feature an integrated aluminum heatsink for excellent reliability. Premium LED chips and proprietary driver circuitry produce 6,000 lumens of output from a power rating of only 25 watts. 14 of the 20 different models can be fine-tuned to ensure that you have a perfect beam pattern and proper cut-off so that oncoming drivers won't be blinded. 16 of the available sizes feature an IP67 waterproof rating, so you know your investment will function reliably for many years.
Heise offers a variety of fog light, turn signal, brake light and reverse replacement bulbs with LED designs. Many solutions are designed to be directly compatible with CAN bus monitoring systems, so we won't need to add any load resistors during the installation.
Heise LED Light Bars and Cube Lights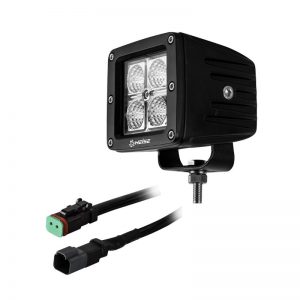 Adding high-output light bars and cube lights to an off-road truck, side-by-side, four-wheeler or tractor makes it easy to see and much safer. Light bars are available in single- and dual-row designs, with optional RGB backlighting or side lights. Bars are available in sizes from 8 to 50.75 inches wide with hybrid spot and flood patterns. Cube lights are available in 2-inch one LED, 2-inch four- or six-LED and 4-inch 15-LED designs in spot and flood beam patterns.
Light Mounting and Wiring Options
Heise has a full line of mounting brackets available for Chevrolet, GM and GMC, Dodge, Ram, Nissan, Toyota, Ford and Jeep trucks. Roll-bar and license plate mounts are also available for custom applications. Of course, our team of fabrication specialists can create a custom mounting solution to meet your needs.
We can integrate your new LED lights into the factory wiring for headlight and fog light applications, or add custom control switches for auxiliary lighting. We can often source rocker switches for side-by-sides with application-specific brackets for roll cage, work, rock, driving, fog and spot applications. Heise even has a remote-control solution that includes a wireless key fob. If we're adding work lights to your service truck or tow vehicle, you can turn them on and off from 150 feet away.
Expert Installation by Expert Technicians
Whether we're removing a bumper and light assembly to change the headlight bulbs, adding a lightbar and custom bracket to your pickup or mounting accent lighting in the interior of your vehicle, the installation technicians at California Car Sounds and Tint treat your vehicle with the utmost of care. We take pride in the work we do and employ the best processes to ensure that every upgrade we perform is executed safely and reliably. How we run wires and cables ensures safety and long-term performance. The way we make electrical connections ensures that they will be free from corrosion. We make sure that every light is aimed properly and produces an appropriate beam pattern for each application. No car or truck leaves our facility unless the craftsmanship and performance are world-class.
If you're looking for new lights for your car, truck, SUV or off-road vehicle, we invite you to visit California Car Sounds and Tint near San Jose and ask about our Heise LED lighting solutions. You can reach us by phone or by e-mail using our contact page for more information.