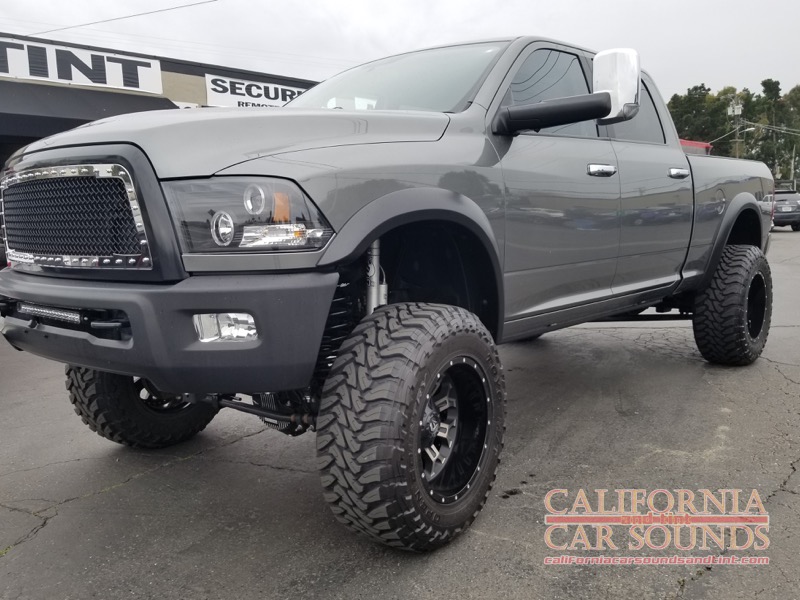 A client from Gilroy recently contacted California Car Sounds and Tint to talk about upgrading this 2012 Ram radio with the new Alpine iLX-F309. As soon as the first units started to ship, people have been talking about this amazing new source unit. The client wanted one as soon as he saw it. He also wanted us to add a side view camera system to the truck to make it easier to drive.
Alpine Halo 9 Ram Radio Upgrade
The new Alpine iLX-F309 (also known as the Halo 9) is a truly unique solution. The source unit is designed to fit into a standard single-DIN location in the dash yet includes a massive 9-inch touchscreen display that mounts in front of the chassis. The iLX-F309 includes Bluetooth, USB and iPod playback, a premium AM/FM tuner with built-in HD radio and most importantly; Apple CarPlay and Android Auto.
Camera System Integration
The Ram has a backup camera integrated into the tailgate handle right from the factory. We integrated this camera in the source unit. This way the client can see what is behind him when parking or maneuvering the vehicle. With his lift kit and large tires, the client asked if there was a way to add side and front cameras to the truck to make it even safer and easier to drive.
We started the camera system upgrade by mounting an Advent ACA501 universal mount camera on the underside of each rear view mirror arm. The cameras are aimed down and rearwards. The driver can now see the sides of the truck and any vehicles or objects driving in his blind spot. We added a third camera to the front bumper of the truck to assist in parking this behemoth.
Video Switching Solution
We used a multi-view switcher that allows the front and side cameras to be viewed simultaneously. The image from the switcher automatically is displayed when the turn signal is activated. It also can be brought up by pressing a button on the dash for parking or low-speed maneuvering.
Vehicle Safety Upgrades by California Car Sounds and Tint
With the work complete, it was time to turn this Ram radio upgrade project back over to the client. He loved the radio and was pleased with the way the new camera system worked. If you are in the San Jose area and are looking for an entertainment or safety upgrades for your car or truck, drop by California Car Sounds and Tint in Campbell and speak with a member of our team. You can also reach us by e-mail using our contact form for more information or to schedule a consultation.