The entire team at California Car Sounds and Tint in Campbell is dedicated to serving our clients with the best service possible through continuing education. As part of our ongoing focus on providing our clients with the best mobile enhancement solutions possible, each member of our team commits to learning as much as they can about the industry and the products and services available for our clients.
Sales Team Training
As vehicles become more complex, our sales team needs to understand what products are available for unique applications. If you have a factory sound system that uses CAN bus or MOST communication protocols, we have a solution. If your car or truck has an upmixer with a center channel, we have a solution to make your stereo sound better without losing this important feature. Whether you drive a car, truck or SUV, spend time in the saddle of your motorcycle or enjoy an evening or weekend on your boat, we are here to help. From radar detectors and laser defense systems to high-performance window tint products, our sales team is always on the lookout for the latest products to offer our clients the best value and performance possible.
Installation Practices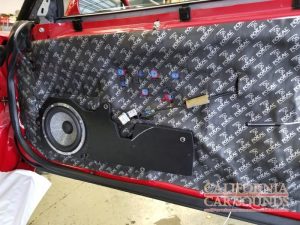 Our installation and fabrication team have to master ever-changing automotive technologies and designs. More and more factory-installed sound systems include amplifiers with complex signal processing. Our guys know how to take the features and benefits of those systems and combine them with premium amplifiers, speakers and subwoofers to create sound systems that are simply amazing.
From the way we make electrical connections and run wiring through your vehicle, to the creative fabrication processes we use to mount speakers, amplifiers, processors and source units securely in your vehicle, everything our installers do ensures reliability and optimizes the performance of the products we install.
Industry Events
Each year, we send members of our team to industry-specific conferences and events to learn about new and upcoming products. The Consumer Electronics Show and the SEMA Show in Las Vegas and MEA KnowledgeFest in Dallas are just a few examples of our commitment to continuing education.
An important aspect of these events is the business relationships we create with our peers. When one of us needs help with a new vehicle or unique challenge, we can call upon the expertise of our friends in the industry to find a solution.
A Commitment to Continuing Education
While it takes time and costs money, our commitment to keeping the entirety of our team at the forefront of automotive accessory solutions is crucial to our success in the San Jose area. Our goal is to offer the best automotive enhancement solutions in Santa Clara, San Mateo and Santa Cruz counties. If you are considering upgrading the audio system in your vehicle, are interested in window tint, a remote car starter or security system or want a radar detector, drop by California Car Sounds and Tint in Campbell and speak with a member of our team. We'd be happy to have a look at your vehicle and develop a solution that meets your needs and exceeds your expectations. For more information, give us a call at 408-378-0409 or send us an e-mail using the contact page on our website.