This second stage of the California Car Sounds and Tint process of upgrading your car audio system will discuss the addition of subwoofers to your vehicle. Over the years, car audio subs have gained a bad reputation. Many see them as being overly loud and prone to annoying people as cars drive by. The reality is, when installed and configured properly, a subwoofer is a very important part of any audio system and plays a significant role in the clarity and detail of the entire listening experience. Keep reading to find out why adding a sub to your car is an amazing upgrade.
Stage 2: Add a Subwoofer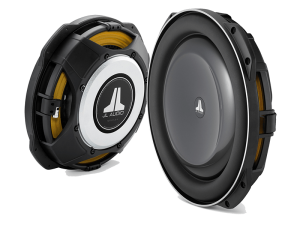 When it comes to recreating a lifelike listening experience, reproducing the bass frequencies below 80Hz is a lot of work. Speakers need to move back and forth relatively large distances to create low-frequency information. If your mobile audio system only has relatively small door speakers and no subwoofer, they have to work too hard to produce bass. These cone excursion requirements cause them to not perform as well in producing midrange information.
When we add a subwoofer to a vehicle, the small speakers in your doors or dash don't have to work as hard. They can be filtered using the crossover built into a digital signal processor and focus on reproducing midrange information with increased clarity and detail. Your small speakers will be able to play louder without distortion when you add a subwoofer.
Subwoofer System Options
The installation team at California Car Sounds and Tint is pretty creative when it comes to fabricating subwoofer solutions for our clients. Working with our sales team, they can design and construct enclosures that optimize the available space in your vehicle while adding the low-frequency output you want. In pickup trucks, we have subwoofer solutions that fit against the back wall of the cab, under the rear seat or in the center console. In cars and SUVs, we can use the space in or around the spare tire or in the corner of the trunk to add subwoofers. In many cases, once installed, you can barely tell the sub is there, except that your music will sound amazing.
Car Audio Subwoofer System Tuning
An important part of integrating a subwoofer into a mobile audio system to achieve great sound is the tuning process. Our technicians use a real-time audio analyzer to ensure the output of the subwoofer blends seamlessly with the mid-bass and midrange speakers in the vehicle. We use the signal delay adjustments in your digital signal processor from Stage 1 of our upgrade path to make it sound as though the sub is on the dash of your vehicle, creating a truly lifelike listening experience.
Upgrade Your Mobile Audio System at California Car Sounds and Tint
When it's time to add impact and realism to your car stereo, drop by California Car Sounds and Tint in Campbell and speak to a member of our sales team about adding subwoofers to your car, truck or SUV. They will work with you to design a solution that provides amazing sound while integrating seamlessly with your vehicle. For more information or to schedule a personal consultation, give our store a call or send us an e-mail using our online contact page.